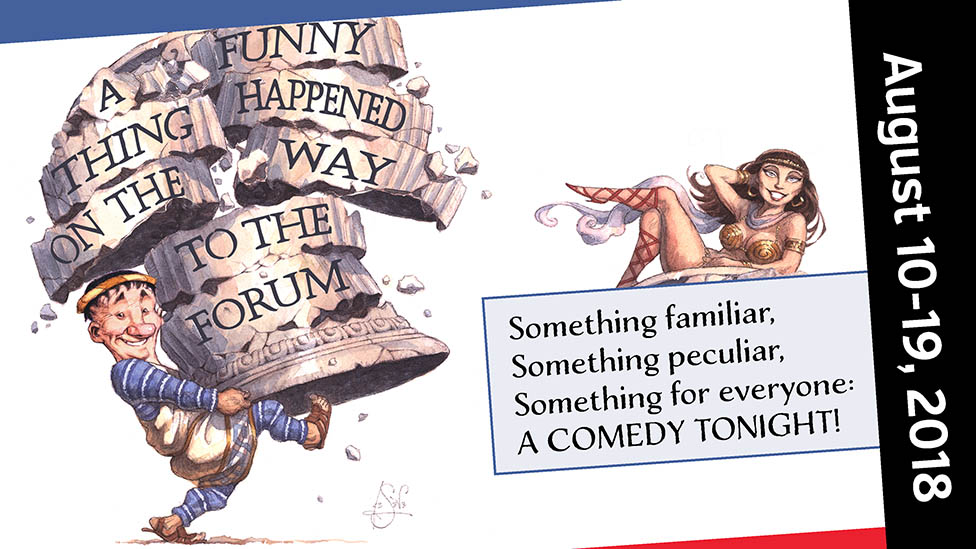 A Funny Thing Happened on the Way to the Forum
August 10 - August 19, 2018
Enjoy a little comedy tonight with a joyous, musical romp through Rome featuring desperate lovers, scheming neighbors and secrets behind every toga.
Performances
Saturday, August 18
8:00pm
Tickets
Premium: $40 (Adult), $37 (Senior), $31 (Student)
Regular: $32 (Adult), $29 (Senior), $23 (Student)
Event Information
Running time: Approximately 2 hours, 15 minutes
Intermission: Yes
Kid Friendly: Recommended for ages 12 & up. (Children under age 4 will not be admitted.)
Synopsis
Broadway's greatest farce is light, fast-paced, witty, irreverent and one of the funniest musicals ever written. A Funny Thing Happened on the Way to the Forum takes comedy back to its roots, combining situations from time-tested, 2000-year-old comedies of Roman playwright, Plautus, with the infectious energy of classic vaudeville.
A Funny Thing Happened on the Way to the Forum is a nonstop laughfest in which Pseudolus, a crafty slave, struggles to win the hand of a beautiful, but slow-witted, courtesan named Philia for his young master, Hero, in exchange for freedom. The plot twists and turns with cases of mistaken identity. There is something for everyone ... a comedy tonight!
Cast & Creative Team
Starring:
Mark Regan Jr as Pseudolus
Michael Chartier as Senex
Dorothy Shaffer as Domina
Thomas Kiesel as Hero
Gina Teschke as Philia
Anthony Preuster as Hysterium
Nick Foster as Marcus Lycus
Nick D'Ambrosia as Miles Gloriosus
David Harris as Erronius
Lindsay Abbot as Gymnasia
Olivia Stephens as Geminae
Emily Stephens as Geminae
Kassi Armendo as Panacea
Patricia McCarron as Vibrata
Ariana Centamore as Tintinabula
Jeffrey Salle as a Protean
Sean C. Mako as a Protean
Jim Watson as a Protean
Credits
A FUNNY THING HAPPENED ON THE WAY TO THE FORUM
Book by BURT SHEVELOVE and LARRY GELBART
Music and Lyrics by STEPHEN SONDHEIM
Based on the plays of Plautus
Originally Produced on Broadway by Harold S. Prince
A FUNNY THING HAPPENED ON THE WAY TO THE FORUM
Is presented through special arrangement with Music Theatre International (MTI). All authorized performance materials are also supplied by MTI. www.MTIShows.com
An Algonquin Arts Theatre Production
Sponsors
C. Keith Henderson and Associates
Mona and John Kirk
Peter A. Flihan and Linda P. Hejduk