Auditions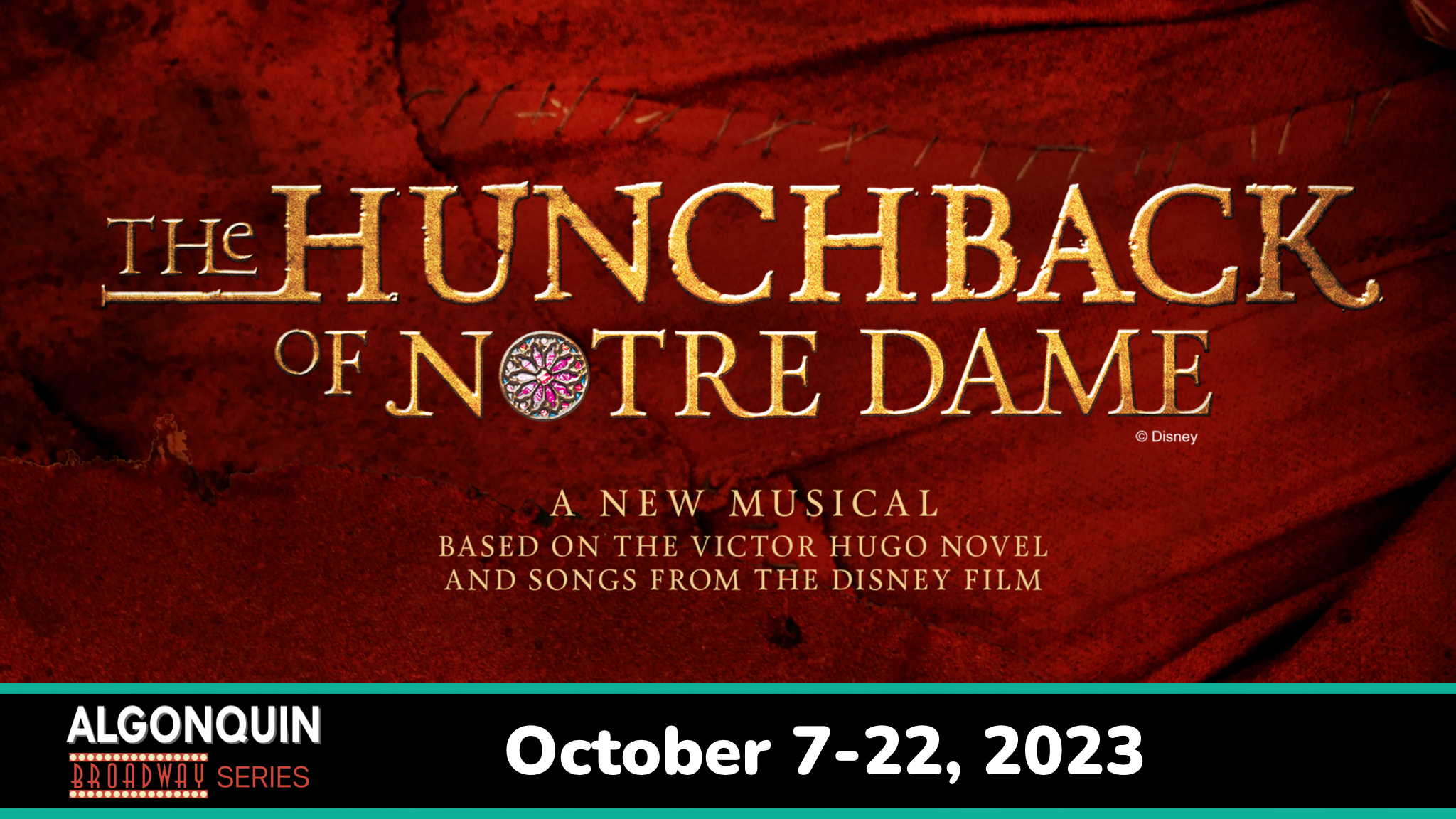 THE HUNCHBACK OF NOTRE DAME | Auditions
8 Performances will run from October 7-22, 2023
Director: Gina Lupi
Musical Director: Stephen Strouse
Choreographer: Kathleen Pearlberg
ACCEPTANCE THROUGH AUDITION ONLY
Wednesday, July 12, Audition video/Digital submission via audition form
Actors under the age of 18 only
Please email your video audition to [email protected] or submit within audition form no later than Wednesday, July 12, 2023.
In-person auditions scheduled as followed:
Tuesday, July 25, open call from 7:00 - 9:00 p.m.
Actors 18 years of age and older
Wednesday, July 26, open call from 7:00 - 9:00 p.m.
Actors 18 years of age and older
LOCATION
All auditions will be at the Algonquin Arts Theatre, 60 Abe Voorhees, Manasquan, NJ.
AUDITION REQUIREMENTS
Please prepare a 32-measure cut of a song in the style of the show that shows your vocal range and acting ability to be heard and performed at the open call audition. Actors need to provide sheet music (piano/vocal), in the correct key, of the song they are auditioning with for the piano accompaniment.

Choir Audition: (All Vocal Parts) "The Bells of Notre Dame" (Part 6), Measure 24
Sheet Music (pdf)
Choir Audition Backing Track (mp3 audio)

Learn the part you are auditioning for.
Play the supplied accompaniment with your audition video.
In your video, announce what part you are auditioning for when you slate at the beginning.

Open Call audition attenders on either the 25th or 26th of July should be prepared for a brief dance audition review. Dress or prepare to change into comfortable clothing and footwear that you can move in safely.

Students under the age of 18 who are cast in this production will participate in the Algonquin Youth Ensemble. **More information is at the end of this audition posting.
ACTORS MUST FILL OUT THIS AUDITION FORM PRIOR TO ATTENDING AN OPEN-CALL AUDITION: https://forms.gle/DDdCJg1BjtfYsMYg7
Please submit the following via this form:
CALLBACKS:
In person callbacks, including a movement call will be held the evening of Thursday, July 27.
Actors will be told as to whether they should attend the callback scheduled. If the callback is a conflicting time, please indicate this on your audition form.
REHEARSAL INFO:
Rehearsals will be at Algonquin Arts Theatre or in a nearby location. Rehearsals to begin mid August of 2023. Exact rehearsal schedule will be set once the availability of all actors is learned but will take place during weekday evenings and weekends (depending on role and when called).
BEFORE YOU AUDITION, be advised that all actors must be available for rehearsals that are to be scheduled according to the actor's role. It is mandatory for actors to be available for all scheduled evening TECH rehearsals (October 2-6) and performances (October 7-22). Conflicts will not be accepted after the cast has been announced.
PERFORMANCE DATES & TIMES:
Visit our ticket sales event page for details.
SYNOPSIS
Based on the Victor Hugo novel and songs from the Disney animated feature, The Hunchback of Notre Dame showcases the film's Academy Award-nominated score, plus new songs written for the stage. The show's bold theatrics combined with the music's orchestral and choral power, promise to transport audiences back to fifteenth century Paris and inside the walls of the world's most famous cathedral with Quasimodo, Esmeralda & Claude Frollo. This powerful and timeless tale of love and heroism, coming in the least expected forms, will have audiences mesmerized by the magic of this truly unforgettable musical.
Note: While adapted from the beloved Disney film, please be aware this production is a darker and more mature version of the tale, closer to the storytelling of Victor Hugo's novel.
ROLES AVAILABLE (In order of Appearance):
Claude Frollo: Archdeacon of Notre Dame Cathedral, Frollo is pious and holier than thou. A strong and imposing presence, he is the reluctant caretaker of Quasimodo. He is the villain of the show; however, he is not pure evil, his soul is tortured. His inner turmoil is derived primarily from his shame in being attracted to a Gypsy, Esmeralda, as well as the loss of his brother in the show's prologue.
Male identifying. Age: 40 to 50
Vocal range top: F4 and Vocal range bottom: G2
Quasimodo: The deformed bell-ringer of Notre Dame. Ringing the bells daily has left him partially deaf, but very strong. Lonely but big-hearted, Quasimodo dreams of connecting with the community he observes around him. Has a vivid imagination which helps bring to life the gargoyles and saints around him. Naive, shy and uncertain at first glance, his courage is revealed throughout the show. Quasimodo has a halting speech when speaking to other real characters, but his inner monologue and songs are free from this impediment. Must be an excellent singer and actor. This actor will be physically representing Quasimodo's deformity, much like in "An Elephant Man," therefore, must be dexterous and flexible.
Male identifying. Age: 20 to 30
Vocal range top: Bb4 and Vocal range bottom: Bb2
Clopin Trouillefou: The clever and charismatic King of the Gypsies. Able to effectively hold the attention of a crowd, an excellent master of ceremonies. An air of mystery surrounds Clopin, who boasts a dark, serious nature when not performing for the crowd.
Male identifying. Age: 20 to 40
Vocal range top: Bb4 and Vocal range bottom: D3
Captain Phoebus de Martin: Newly appointed Captain of the Cathedral Guard, he is dashing and charismatic. Phoebus is fun-loving and overconfident, yet charming. He is conflicted when given orders that defy with his strong moral compass. He doesn't possess the prejudice of Frollo nor his other soldiers.
Male identifying. Age: 25 to 40
Vocal range top: Ab4 and Vocal range bottom: C3
Esmeralda: A strong and free-spirited woman. A beautiful Gypsy, she is able to capture the attention of all, particularly when she is dancing. She is compassionate with a strong sense of justice and morality. A strong, flexible dancer.
Age: 20 to 30
Vocal range top: Db5 and Vocal range bottom: F3
The Congregation: An ensemble of 10-15 strong and dynamic musical theatre performers consisting of at least 5 male identifying and 5 identifying who all function as Narrators and will play 40+ roles including: Jehan Frollo, Florika, Father Dupin, King Louis XI, Tribunal, Madam, St. Aphrodisius, Gypsies, gargoyles, soldiers, and citizens of Paris. All Ensemble
The Choir: A group of singers, the choir will be a separate ensemble from the "congregation". This choral ensemble will be on stage throughout the show and provide accompanying vocals. The choir will not be responsible for learning choreography or staging and will be able to hold music; therefore, the time commitment for the choir is less significant. The choir will rehearse a maximum of 2 times a week up until 2 weeks before opening. Choral experience is a plus. The choir will consist of AYE** vocal students by audition as well as adult vocalists.
**ALGONQUIN YOUTH ENSEMBLE (AYE)
Here at Algonquin Arts Theatre our produced Broadway Series performances work closely with the Education Department. This gives us an opportunity to educate students in all areas of the performing arts. Through our Performing Arts Academy (PAA) each semester (Fall-Winter, Winter-Spring & Summer) we offer a program called the Algonquin Youth Ensemble (AYE). AYE is an audition-only, comprehensive instructional, full immersion theatre education program.
The Algonquin Youth Ensemble is a class first. There is not a tuition fee to participate in this particular program. Students will be selected based on their audition alone. Not all who audition will be cast/selected for the program. Transcending the typical theatre program, AYE members not only have the opportunity to study theatrical disciplines with experienced professionals, but also must apply what they've learned in a fully mounted main stage production. This particular production is open to students ages 13 to 18 years of age, participants commit not only to all production rehearsals (as needed), tech rehearsals and performances.
To sign up for our email audition list, please create an Account on our website. You must select 'YES' as your contact preference to receive email updates.
Once logged into your personal account, you can visit the 'Other Preferences' tab to opt in to audition email announcements. You can also email [email protected] to be placed on our audition list.