Auditions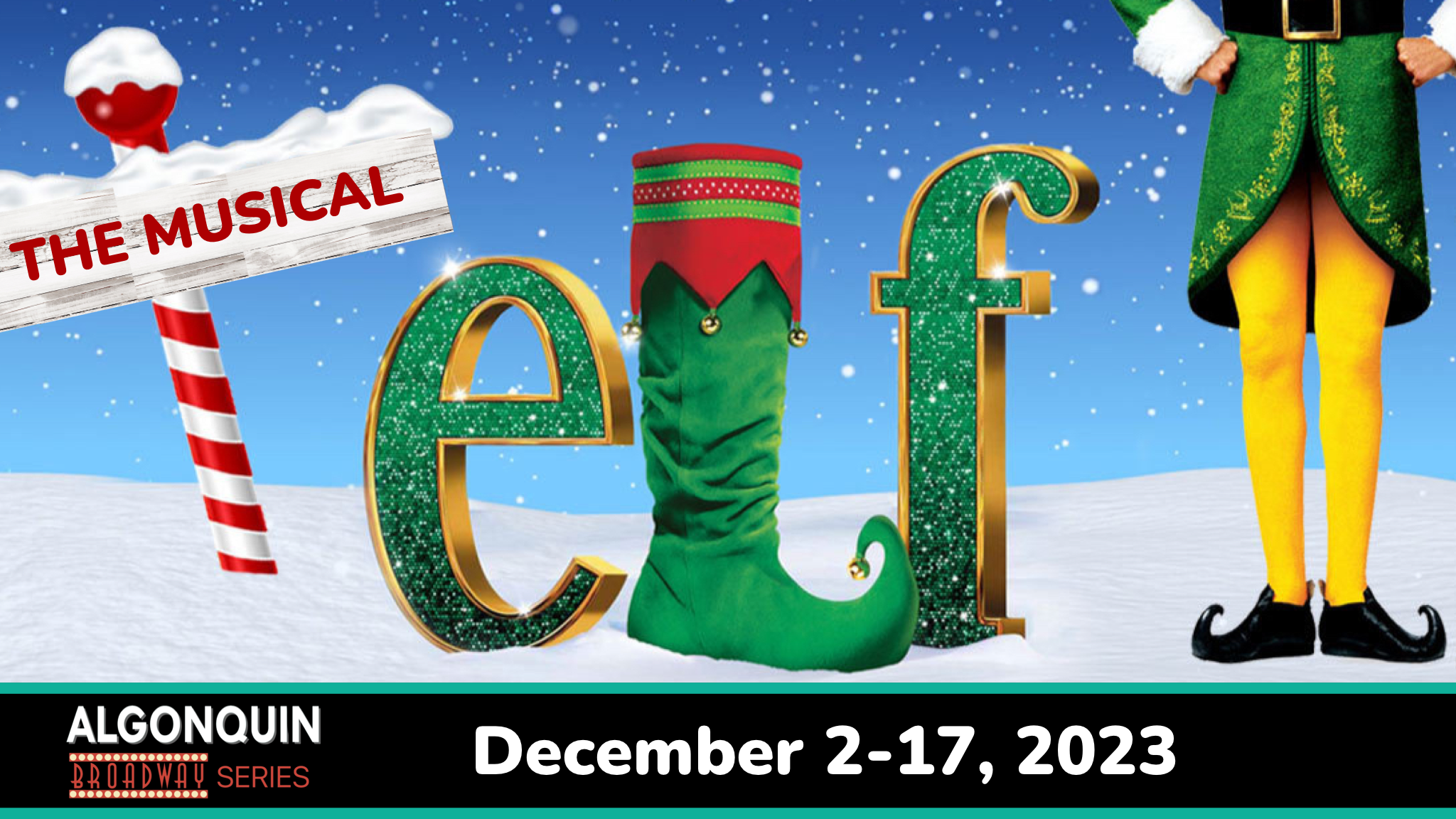 The Algonquin Arts Theatre is proud to announce auditions for its December production of the Elf The Musical.
In-person auditions scheduled September 11 and 13 from 7:30-9:30.
LOCATION
All auditions will be at the Algonquin Arts Theatre, 60 Abe Voorhees, Manasquan, NJ.
ACTORS MUST FILL OUT THIS AUDITION FORM PRIOR TO AUDITIONING: https://forms.gle/Hwch89qaMndNh9LT7
Performances will run from December 2-17, 2023.
Director: Anthony Greco
Musical Director: Barbara Klemp
Choreographer: Jessica O'Brien
ALL ROLES OPEN!
This is a fun, fantastic ensemble show just in time for the holidays!
BUDDY
(male identifying, age 30s. Vocal range: Tenor, Ab2-C5)
Born a human but raised at the North Pole as a Christmas Elf, Buddy is eager to find his place in the world. He is a child at heart and that child-like curiosity makes him both endearing and gets him into trouble.
JOVIE
(female identifying, ages 20-30s. Vocal range: Mezzo with strong belt, G3-D5)
Buddy's eventual girlfriend. She works at Macy's and has a bit of a cynical outlook on life and love because of the men she's dated. She is caught off guard by Buddy's genuinely big heart.
WALTER
(male identifying, age 50+. Vocal range: Baritone, A2-G4)
Buddy's workaholic father. He is a children's book writer, but lacks any of the childlike spirit that Buddy has. He is selfish, tense, and generally angry with life.
EMILY
(female identifying, age 40+. Vocal range: Mezzo, F3-Eb5)
Walter's wife. Though she is sweet and willing to take him in, she thinks Buddy is crazy at first. Wishes her husband would spend more time with the family.
MICHAEL
(male identifying, age 10-14. Vocal range: unchanged voice/youth tenor, F3-G5)
Buddy's step brother who is excited to have a new friend and brother. Unlike his mother, he doesn't take much convincing to have Christmas spirit, but like his mother, he wishes his father would spend more time with the family.
DEB
(female identifying, age 25+. Vocal range: Mezzo, D4-Eb5)
Walter's secretary, a truly great comic role! Takes an instant liking to Buddy simply for the novelty of it. Though she aims to please and is a bit of a suck-up, she feels under appreciated.
MANAGER
(male identifying, age 30+. Vocal range: Baritone, B2-F#4)
The panic-stricken, overworked manager at Macy's Department Store. He is a good, friendly guy just trying to do his job and get by.
SANTA
(male identifying, age 40+. Vocal range: Baritone, A2-E4)
Just another workingman. Loves his job and Christmas, but also likes to kick-back and watch the game when a rare opportunity arises. A natural storyteller, in fact, he's the narrator of our play!
GREENWAY
(male identifying, age 50+. Non-singing role)
Walter's boss, the Ebeneezer Scrooge of our story! He is what Walter will become if he continues down the path he is on. A tyrannical, workaholic who cares nothing about the people around him or who work for him.
FEATURED ADULT ROLES (ages 15+) INCLUDE:
Chadwick, Matthews, Sam, Charlie, Tiara, Mrs. Claus, Security Guard 1, Fake Santa, Sarah, Charlotte Dennon, & more!
Outside of the role of Michael, there are no ensemble roles for children in this production.
REHEARSAL INFO:
Rehearsals will be at Algonquin Arts Theatre or in a nearby location and will not begin before Monday, September 18th. Rehearsals are anticipated to be held 2-3 nights during the week and on Sunday late afternoon/early evening. Not everyone will be required to attend every rehearsal.
AUDITION REQUIREMENTS:
With the exception of those auditioning for the role of Michael, all performers should be 15+.
Please prepare a 32 measure cut of a song in the style of the show which shows your vocal range as well as personality. Please bring sheet music in the correct key, an accompanist will be available.
Singing from the show is encouraged if you are auditioning for specific roles!
Please be prepared to list any conflicts you might have from Monday, September 18th - Friday, December 1st. YOU MUST BE ABLE TO ATTEND ALL PERFORMANCES!
Headshot + Resume (if you have them)
PERFORMANCE DATES & TIMES:
Visit our ticket sales event page for details.
QUESTIONS?
Please email the staff at [email protected].
To sign up for our email audition list, please create an Account on our website. You must select 'YES' as your contact preference to receive email updates.
Once logged into your personal account, you can visit the 'Other Preferences' tab to opt in to audition email announcements. You can also email [email protected] to be placed on our audition list.