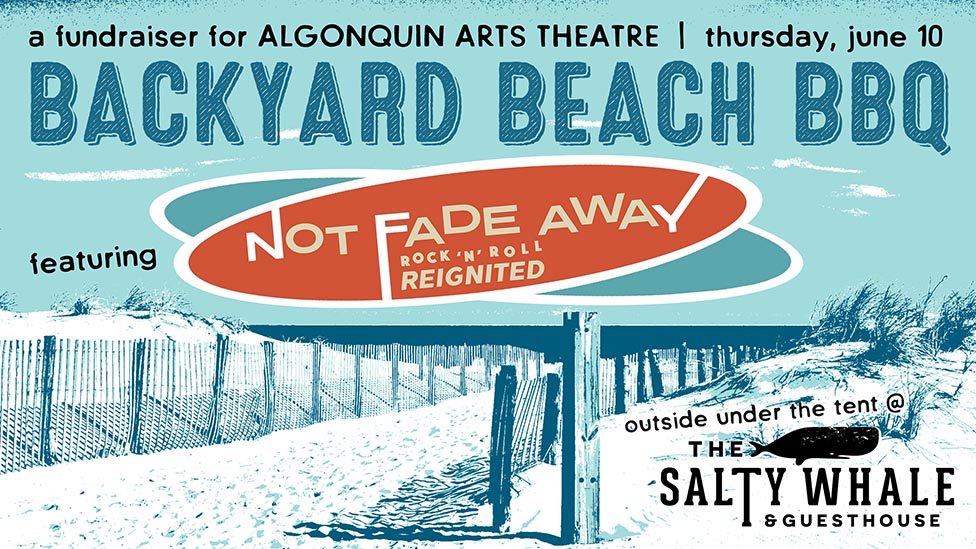 An Outdoor Fundraiser
Backyard Beach BBQ
Thursday, June 10, 2021
featuring Not Fade Away
Rock 'n' roll is reignited as NOT FADE AWAY headline the Algonquin' Backyard Beach BBQ fundraiser on June 10 under the big tent at The Salty Whale in Manasquan. Enjoy a casual BBQ dinner & a show while we present Eliot Colon with our Leadership & Legacy Award.
Performances
Tickets
Include Dinner (starting at 5:30) & The Show (starting at 7:30)
Ticket includes:
All food & drink available as table service only.
Included: Listed menu + 1 drink per person from the bar.
Additional drinks available from your server (cash bar).
Includes reserved table seating under the tent.
Rain or Shine event.
Parties of 2 can contact the Box Office at 732-528-9211 or [email protected] to be added to the waiting list. We will offer unoccupied tables to parties of 2 on the Monday prior to the event date. Please indicate when you call or email if you are interested in being seated at a 6-foot picnic table with another Party of 2.
MENU
Main (Pick 1, Served with Fries & Cole Slaw):
Cheeseburger with lettuce, tomato, onion & pickle.
BBQ Pulled Pork Sandwich
Lightly Battered Chicken Sandwich w/ lettuce, tomato, onion & swiss
Veggie Burger
Dessert Table: Cookies & Brownies
Drink: 1 Bar Drink (select beer, wine or specialty cocktails), soft drinks, iced tea, cranberry, lemonade & coffee
Specialty Cocktails: Spicy Margarita, Strawberry Lemonade or Red Sangria
Event Information
THE VENUE
The Salty Whale, 390 East Main Street, Manasquan
This event will take place under the big tent outside of the Salty Whale at 390 East Main Street in Manasquan. The Salty Whale has imported sand to cover their parking lot including the floor of the tent. We strongly recommend flat shoes (no heels).
This event is rain or shine. In case of rain, up to 50% of the tent walls will be closed if needed to keep the rain out.
Seating: All seating is at picnic tables. 8-person table is a wooden table. 4 & 6-person tables are plastic picnic table. Please inquire with the Box Office regarding seating accommodations with individuals who require a chair with a back.
Facilities: Portable restrooms are available at ground level. The Salty Whale's indoor restrooms will be accessible and are located 1 flight of stairs up inside the bar. A lift is available.
DRESS CODE
Shirt & shoes required for service. The dress code is Shore Casual. Flat shoes are recommended: We'll be on a sandy surface. Dress for the day's weather. We're only a few blocks from the water, so a light jacket may be needed if winds are coming from offshore.
COVID PROTOCOLS
This event will be conducted in accordance with all NJ state guidelines for outdoor dining.
FUNDRAISING FUN
A Boozy Silent Auction will take place in conjunction with this event. Bidding is open to anyone 21 & up. Attendance is not required. Winners must collect items at the event or schedule a pick up at the theatre between June 11 and June 18.
Multiple cash 50-50 raffles will be held.
Synopsis
SCHEDULE
5:30 pm - Doors. Dinner service begins & continues through the event.
7:00 pm - Honoree Presentation
7:30 pm - Not Fade Away
9:15 pm - Last Call Outside, Silent Auction Closes
9:30 pm - Silent Auction Pickup
10 pm - Outdoor Curfew
50-50 Raffle will take place on a rolling basis with a goal of 3 raffle drawings.
Cast & Creative Team
Headliner
Not Fade Away: Our Buddy is Back! Jared Mancuso, who starred in the lead role in The Buddy Holly Story, returns to Manasquan with his band Not Fade Away in tow. This young group has been taking the country by storm with their amped-up renditions of classic hit songs from legends like Buddy Holly, Elvis Presley, Roy Orbison, Shirley Ellis, The Beatles, Ritchie Valens, Jerry Lee Lewis, and more. These guys (and gal) will leave you completely blown away with tight harmonies, strong musicianship and energetic personalities. This is not your typical tribute band ... this is rock 'n' roll reignited!
Honoree
Eliot Arlo Colon
Sponsors