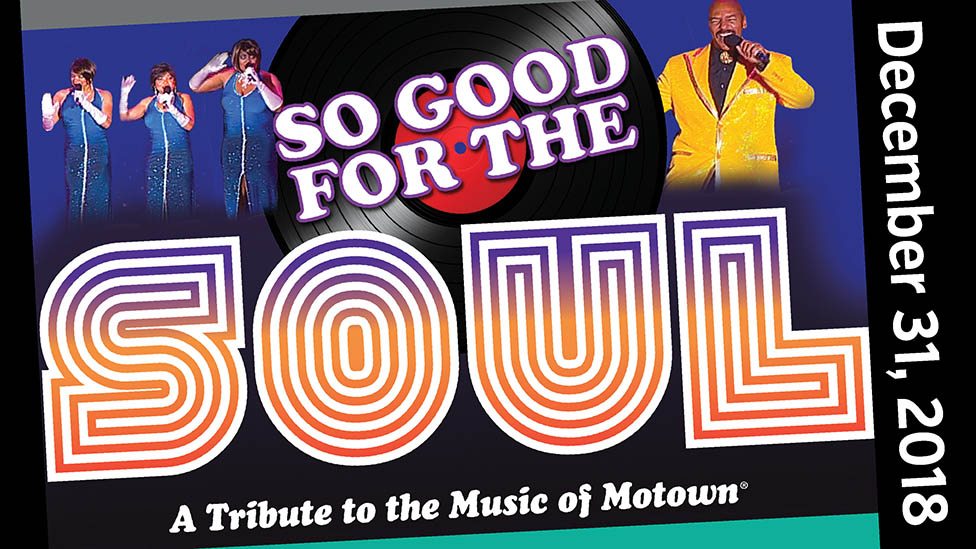 So Good for the Soul
Monday, December 31, 2018
A Tribute to the Music of Motown
So Good for the Soul is a non-stop, high energy trip down memory lane with Motown's greatest hits.
Performances
Monday, December 31
6:00pm
Monday, December 31
9:00pm
Tickets
Premium: $65 (reserved)
Regular: $52 (reserved)
Event Information
Running time: Approximately 2 hours
Intermission: Yes

Synopsis
Hitsville churned out all the #1 hits back in the 60s and 70s ... and So Good for the Soul celebrates the best of the best from Berry Gordy's Detroit hit-making factory at Motown records. A fabulous cast, backed by a band of incredible musicians, represents Motown royalty - dressed to the nines, blinged out, and performing the beloved songs from the greatest groups, artists and songwriters of all time: The Four Tops, The Temptations, The Supremes, Smokey Robinson, Mary Wells, Lionel Ritchie, Marvin Gaye, Tammi Terrell, Stevie Wonder.
Sing, dance & celebrate the music of your life to songs like "My Girl", "I Heard It Through The Grapevine", "Reach Out", "Shop Around", "Dancin' In The Street", "Stop, In The Name Of Love", "Ain't Nothin' Like The Real Thing", "Ain't No Mountain High Enough", "How Sweet It Is (To Be Loved By You)" & "Uptight" - nearly 30 non-stop hits in all!
Credits
Presented by Algonquin Arts Theatre
Sponsors
Interested in sponsoring an event at Algonquin Arts Theatre? Call 732-528-4336 for information.