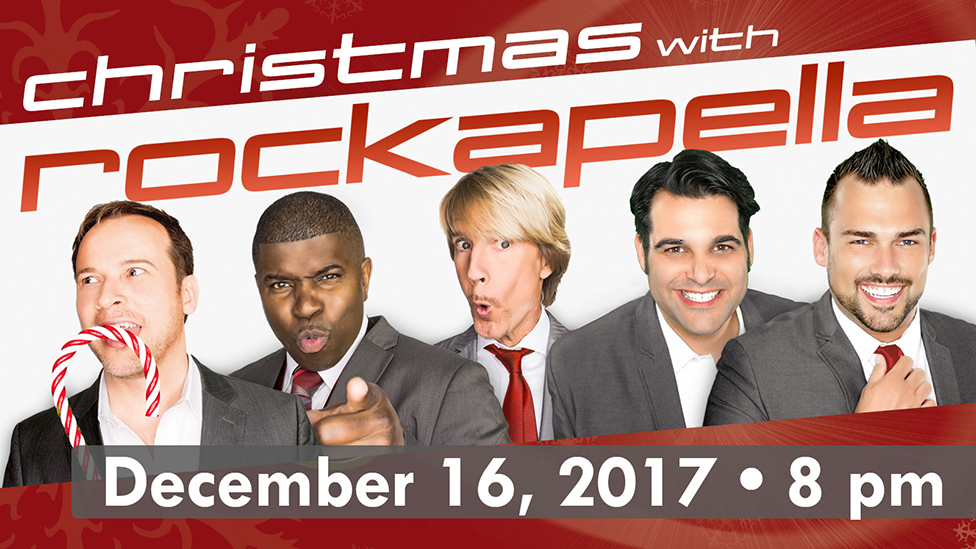 Christmas with Rockapella
Saturday, December 16, 2017
No matter where in the world you have been, this a cappella spectacular can't be missed as Rockapella's five golden voices sing you home for the holidays.
Performances
Saturday, December 16
8:00pm
Tickets
Premium: $45 (Adult), $42 (Senior), $36 (Student)
Regular: $37 (Adult), $34 (Senior), $28 (Student)
Group Rates Available: Learn More
New: Please Note That Advertised Prices Include All Per Ticket Fees
Event Information
Running time: Approximately 1 hour, 45 minutes
Intermission: Yes
Kid Friendly: Yes
Synopsis
Christmas with Rockapella stars one of the world's most sophisticated, lasting, and imitated vocal groups. You'd be hard-pressed to find a more influential group out there in this new era of movies like Pitch Perfect, network television a cappella shows, and innumerable college vocal groups that own the corner of cool on campuses everywhere.
As one of the progenitors of the astonishing full-band sound of "contemporary" a cappella, Rockapella has shown every audience the raw power of pure vocal talent and originality. Since the early '90's when they first achieved national television fame on PBS's Where In The World Is Carmen Sandiego?, they've toured the globe and provided a funky powerful soundtrack to several generations of vocal music fans, while keeping it all fresh along the way. With buckets of catchy original pop songs, and complete contemporary revisions of sparkling Motown, pop, and soul classics, this group has always been the one to watch. "Often imitated - never duplicated" applies here. Now they're better than ever!
The current Rockapella line-up features Scott Leonard (since 1991, High Tenor), Jeff Thacher (1993, Vocal Percussionist), Calvin Jones (2013, Tenor), Mitchell Rains (2016, Tenor), and Bryant Vance (2016, Bass). This line-up marks a new generation of Rockapella, who remain keenly focused on musical excellence.
Credits
Presented by Algonquin Arts Theatre
Sponsors
Eliot & Lorene Colon