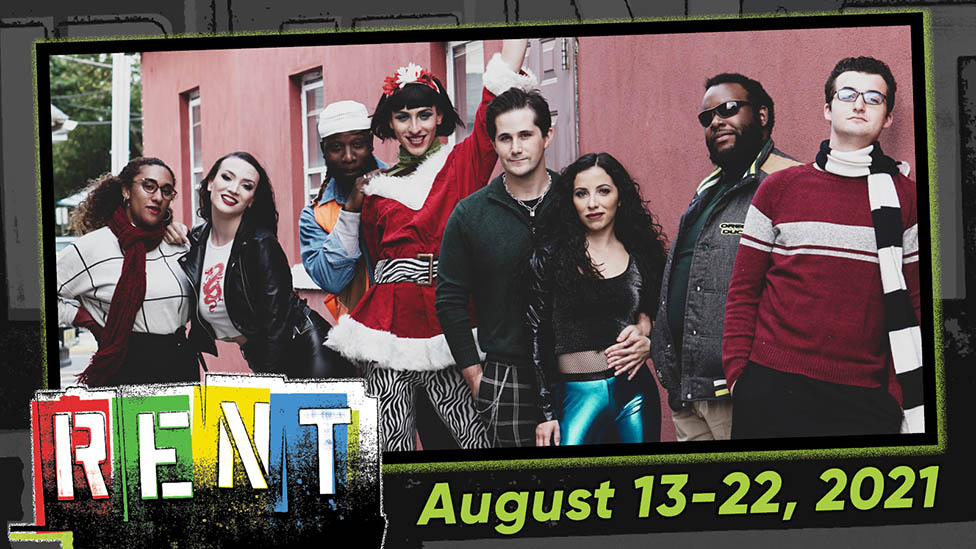 Rent
August 13 - August 22, 2021
Jonathan Larson's iconic Pulitzer Prize-winning musical that shaped a generation of audiences and taught us all to measure our life in love.
Performances
Friday, August 13
8:00pm - Sold Out
Saturday, August 14
2:00pm - Sold Out
Saturday, August 14
8:00pm - Sold Out
Sunday, August 15
3:00pm - Sold Out
Thursday, August 19
8:00pm - Sold Out
Friday, August 20
8:00pm - Sold Out
Saturday, August 21
2:00pm - Sold Out
Saturday, August 21
8:00pm
Sunday, August 22
3:00pm - Sold Out
Tickets
*There are some cases in which seats may open up for shows labeled SOLD OUT. Click on 'BUY TICKETS' to confirm ticket availability.
Our policies align with the current requirements and guidance set by the State of New Jersey and the CDC, and are subject to change as public policy changes.
Masks are strongly recommended for all patrons.
Unvaccinated patrons: Requested to wear a mask at all times in the theatre.
Vaccinated patrons: Masks are optional.
Reserved: $40 (Adult), $37 (Senior), $30 (Student 4 & up)
Listed prices include all per-ticket fees.
---
Special Policies Only for Saturday, August 21 at 8 pm (100% capacity 'Vaxed to the Theatre Night' Proof of Vaccination is required for this performance only. Proof can be 1) Original Vaccination Card; 2) Photocopy of Vaccination Card; 3) Photo of Vaccination Card displayed on phone; 4) Receipt or other record indicating receipt of vaccination from pharmacy, clinic, etc.
---
HOW TO PURCHASE
Seating is arranged for purchase in "Bubbles" of up to 6 people.
There will be at least 1 empty seat between all parties. Each party will have direct access to seats from the aisle.
When buying online you must select a seating bubble with exactly the number of available seats that you want to purchase.
Orders can be placed online or by phone at 732-528-9211.
If the available seating configurations do not fit your party size, please contact the Box Office at [email protected] or 732-528-9211.
When in doubt, we recommend purchasing the total number of seats that you need and contact us after purchase to re-arrange the seating configuration. Select seats in the same section as close to one another as possible.
Synopsis
Runtime: Approximately 2 hours, 35 minutes
Intermission: Yes
Kid Friendly: Appropriate for ages 13 & up. Children under age 4 are not admitted.
Event Information
BEFORE YOU PURCHASE ...
... please take a moment to carefully review all of the policies below. Algonquin Arts Theatre reserves the right to amend policies at any time.
SELF-SCREENING
Patrons should not attend a performance and contact the Box Office to request a refund if:
1) They feel ill in any way.
2) Patron or a member of the household has tested positive for COVID-19 or is awaiting COVID-19 test results.
3) They are under quarantine following COVID-19 exposure or travel (per NJ rules on day of show).

THEATRE POLICIES
Unvaccinated patrons & staff: Masks required at all times.
Vaccinated patrons & staff: Masks optional.
Both outer lobby and inner lobby doors will open 30 minutes prior to showtime (no indoor waiting area is available).
Attendance is capped based on providing distanced seating. (Max of about 200).
Patrons are required to sit in their ticketed seats.
Performers are not required to wear masks on stage.
Standard cleaning & sanitizing protocols will be in place.
Hand sanitizer will be available in the lobby.
Our HVAC system will run constantly to circulate and filter air. This will make the theatre feel cooler - Please bring a sweater even in warm weather.
Patrons are asked to distance while waiting online for entry, restrooms or at our concession stand. Please help your neighbors feel comfortable and give them some space. With less than a 50% audience, there will be plenty of time to accommodate all patrons.
Intermission: Patrons who are required to wear masks can go outside of the theatre lobby to take a mask break if desired. Intermission will typically be 15 minutes from lights up to lights down.
AMENDED TICKET POLICIES
Our standard Ticket Policies remain in place, with the addition of the pandemic-specific policies noted below:
Our no refunds or exchanges policy remains in place, except:
1) If a performance cannot take place as scheduled for pandemic-related reasons (government restriction, exposure, artist availability, etc), a refund will be available within 7 days of the original performance date.
2) Patrons who cannot attend due to illness, a positive COVID-19 test, exposure to COVID-19 or quarantine rules can receive a refund if that refund is requested prior to the start of the performance (please email or leave a voicemail if we cannot answer the phone).

Will Call will operate in the theatre lobby. Will Call ticket holders should enter with their entire party via the single lobby door to check in on the day of the show.
Cast & Creative Team
NICK BUONVICINO (ensemble) is thrilled to be making his Algonquin debut in Rent! Recent credits: Songs for A New World at Phoenix Productions, Georg in Spring Awakening by Khyland Productions, Finch in Disney's Newsies by Cranford Dramatic Club, Jim Farrell in Titanic the Musical by Kelsey Theater, and Action in West Side Story by Kelsey Theater. Nicholas would like to thank the cast & crew, his family, friends and his beautiful fiancee Diana for their love and support.
AARON RICHARD BURT (Mark Cohen) is incredibly excited to be returning to the Algonquin playing Mark. His last appearance at the Algonquin was when he was starring as Jesus Christ in Jesus Christ Superstar. Aaron's also been in shows like Amelie, Little Shop of Horrors, Footloose, and others. Aaron is very grateful for the experience of taking on another dream role at the Algonquin. He would love to thank his friends, family, mentor, and cast for their love and support. He also would love to thank the audience and to personally welcome everyone back into our home of the theater. Welcome home everyone! Instagram- @aaronburt
JAMES CHIANESE (Angel Schunard) is so excited to be reprising the role of Angel at the Algonquin Arts Theatre. Some past credits include Seymour in Little Shop of Horrors and Harry in Mamma Mia. James currently studies music at RCBC. He is a voice and musical theatre teacher at CNJBT in Florence, NJ. You can find him on Instagram and Tik Tok @jameschianese. He would like to thank the cast and crew of Rent, his friends and family, as well as his voice teacher Natalie Megules.
ALICIA ROSE DISHON (Mimi Marquez) is thrilled to be back on the Algonquin stage after most recently appearing as Diana Morales in A Chorus Line! Her other favorite roles include Esmeralda in Hunchback of Notre Dame, Anita in West Side Story, and Mary Magdalene in Jesus Christ Superstar. Her most favorite role is getting play opposite her real life love, Robert. Alicia would like to dedicate this performance to her mother who was a nurse on the front lines during the AIDS epidemic, and to all of those who suffer or have lost their lives due to drug addiction including her brother Christopher. Measure your life in love.
KEWARN DOBSON (Tom Collins). Love being around music, grew up singing gospel. Got into acting a young age and happy to be reprising the role of Tom Collins. I made the transition from onstage to backstage as road tech, but do enjoy doing a show when I'm on extended breaks from the road. Last show I did was in 2016 so this is rare for me.
SHANNEN MICHAEL DOYLE (ensemble) is thrilled to be in a dream show with a dream cast. Prior to the pandemic, Shannen was most recently seen as Jo March in Little Women: The Musical with Holmdel Theatre Company as well as Wednesday in The Addams Family at Plays in the Park last summer! Thank you to Gina, Mark and Jessica for the opportunity and to the cast for being truly inspiring. No day but today.
IAN DUHART (Benjamin Coffin III) is beyond excited that YOU'LL SEE him in this production of Rent. He wants to thank his amazing cast, crew, family, and friends for their love and support. He also dedicates this show to his late Mother Kim; His Biggest Supporter.
MELINDA ELIZABETH GIOE (Maureen Johnson). After a short hiatus from theatre Melinda is very excited to be returning to the stage in a dream role! Some of her past favorite roles include: Laurey (Oklahoma), The Witch (Big Fish) and Marcy (Dogfight). She would like to thank her fiance John and her family for supporting her dreams!
THOMAS KREY (ensemble). This is Thomas Krey's 1st show at Algonquin and he is very excited. Thomas has played roles such as Edward Bloom (Big fish), Willard Hewitt (Footloose), and Robbie Hart (The Wedding Singer). Thomas will be attending AMDA New York City this fall and is taking the Musical Theatre Program.
DANIEL MUCHA (ensemble) is honored to be making his AAT debut! Previous credits: Crazy for You (Junior), Mame (Ito), A Christmas Story (Restaurant Owner) Thoroughly Modern Millie (Ching Ho), Honk! (Drake), Anything Goes (Ship's Purser), Willy Wonka (Candy Man), Disney's Mary Poppins (Robertson Ay), and The Music Man (Quartet). He currently works with the Yardley Players BOD, Kelsey Forward Initiative and Kelsey Theatre Advisory Board. Thanks to everyone at the AAT for this incredible experience!
ROB RYAN (Roger Davis) is so excited to be back on the Algonquin stage, after previously appearing in Jesus Christ Superstar (Judas) and West Side Story (Tony). Other past shows include Disney's Newsies (Jack Kelly). AIDA (Radames), Next to Normal (Gabe) and more. As always. he is grateful for the undying support of his friends and family, as well as the opportunity to be in another production with his love, Alicia. Let's do this, Mimi!
ARIANNA SCARANO (ensemble) is elated to be a part of this wondrous production! She has performed with Phoenix Productions in Young Frankenstein (Ensemble) and Mamma Mia (Lisa). She has also performed with the OCC Repertory Theatre in Into the Woods (Florinda), and twice in The Best Christmas Pageant Ever (Imogene Herdman). Being a part of this cast and show has been such a wonderful experience and the best way to come back to live theater!
CAMERON SCHLUSSLER (ensemble) is overjoyed to be part of the cast of Rent! He previously appeared in Young Frankenstein (Igor), Mamma Mia (Eddie), Into The Woods (Cinderella's Prince), and many more. He is willing to take on the responsibility of being the most handsome and humble in the cast.
AMBER TANZI (ensemble) is so excited for her first show at the Algonquin! She been featured in other shows like American Idiot, In The Heights, Spring Awakening, and more. She recently graduated from The American Musical and Dramatic Academy in 2020 with a Associates Degree in Acting. She would like to thank her parents, and her cast for their love and support. She would also love to thank the audience for coming back into the live theater world.
MACKENZIE UPLINGER (Joanne Jefferson). This is Mackenzie's first show with the Algonquin and she is very excited to be starring the role of Joanne along side an amazing cast of talented performers! She's appeared in many other roles such as Ariel in Footloose, Songs for a New World, Annette in the Original musical CAMP, and countless others. She thanks the cast and crew for putting on an amazing production in these times and looks forward to a future with the Algonquin!
GINA LUPI (Director) recently directed Starting Here, Starting Now at AAT. Other directing credits: Jesus Christ Superstar, Kiss Me Kate, A Christmas Story, Peter Pan, The Buddy Holly Story, Damn Yankees, The King & I, The Glass Menagerie, Annie Get Your Gun, The Full Monty, Gypsy, Pride and Prejudice and Man Of La Mancha. AAT Stage Manager for: Annie, Newsies, The Producers & South Pacific to name a few. Gina most recently appeared on the AAT stage as the Wardrobe in Beauty and the Beast, Prudy in Hairspray and Gingy in Shrek. Gina was the recipient of the 2009 NJACT/Perry Awards for Outstanding Director for Little Women and Outstanding Supporting Actress for Mame.
MARK MEGILL (Musical Director) is an actor, music director and teacher, and is delighted to return to the Algonquin Arts Theatre, where he recently played Father Tim Farley in Mass Appeal. He played Jean Shepherd in the national tour of A Christmas Story, The Musical. When not onstage, he has served as musical director at the Algonquin Arts Theatre for Jesus Christ Superstar, West Side Story, A Funny Thing ... Forum, Carousel, Peter Pan and The Full Monty. He serves as the Music Director for The Count Basie Performing Arts Academy in Red Bank, and at The Spring Lake Community House. He retired after 35 years as a public school teacher, and was recently named to the Allentown High School Hall of Fame. He lives in Manasquan with his wife Maria and is a proud father to Colin and grandfather to Dante, Beckett and Sawyer. Let's Go Mets!
JESSICA O'BRIEN (Choreographer) has directed and/or choreographed more than two hundred productions. Algonquin credits include: Annie, Mamma Mia, Beauty and the Beast, A Christmas Carol, West Side Story, White Christmas, Carousel, The King and I, Miracle on 34th Street, The Little Mermaid, South Pacific, My Fair Lady, Spamalot, and Elf Jr. She is a four-time IMEA Award nominee for Outstanding Direction of a Musical and Outstanding Production of a Musical (Gypsy, The Last Five Years). She is a nine-time NJACT Perry Award nominee, and two-time winner for Outstanding Choreography (Me and My Girl, Crazy for You). Jessica is a recent inductee to the NJACT Hall of Fame.
RYAN ALGER (Stage Manager). No stranger to the Algonquin Arts Theatre, Ryan is very excited to be stage managing her very first show! Ryan is a rising senior at Rider University, majoring in Technical Theatre with a concentration in makeup design and minoring in dance. She would like to thank Gina for believing in her and giving her this amazing opportunity, and the cast for being so kind and supportive to her.
JOSEPH FICARRA (Production Manager) is proud to be producing once again for the Algonquin stage. Joe is the company's Production Manager but wears many hats around the theatre. He can be found at the back of the house mixing sound for the musicals, in the workshop building props, or on stage performing. Credits include such roles as The Ghost of Christmas Present (Scrooge!), Cliff (Cabaret), and Jigger (Carousel).
ANTHONY GRECO (Costume Designer) has directed AAT productions of Annie, A Christmas Carol and Barefoot in the Park. On stage at AAT: Mamma Mia (Harry), Noises Off! (Gary), Beauty & the Beast (Cogsworth), The Producers (Max), A Christmas Story (Jean Sheperd) and Damn Yankees (Applegate).
RACHEL KRUPNICK (Production Stage Manager, Light Board Op) is happy to be back at the Algonquin for Rent! Favorite projects include: Buddy Holly, A Christmas Story, Jesus Christ Superstar, and Damn Yankees at the Algonquin Arts Theater, Xanadu and Jesus Christ Superstar at Middlesex County's Plays in the Park. When not at the Algonquin, Rachel can be found traveling the country presenting dance competitions, or cuddling with her cats.
JAN TOPOLESKI (Scenic & Sound Design) Algonquin's TD. Acting credits: A Christmas Carol (One-man Show), King Arthur (Camelot), Ebenezer Scrooge (Christmas Carol the Musical) & The Old Man (A Christmas Story). Other roles: Juan Peron (Evita), Don Quixote (Man of La Mancha), Lord Farquaad (Shrek), Captain Von Trapp (Sound of Music), Emile De Becque (South Pacific). Directing credits: Noises Off, Carousel, South Pacific, The 39 Steps, Jekyll & Hyde, The Producers, A Few Good Men.
ROMAN KLIMA (Lighting Design) is a Lighting, Scenic, Sound & Video designer. His work has been seen at Algonquin Arts Theatre, The Bickford Theatre, Middlesex County College, Brookdale Community College, State Theater New Jersey, Middlesex County's Plays in the Park, The Forum Theater, & countless venues throughout the tristate area.
Credits
RENT
Book, Music and Lyrics by JONATHAN LARSON
Musical Arrangements Steve Skinner
Original Concept/Additional Lyrics Billy Aronson
Music Supervision and Additional Arrangements Tim Weil
Dramaturg Lynn Thomson
RENT was originally produced in New York by New York Theatre Workshop and on Broadway by Jeffrey Seller, Kevin McCollum, Allan S. Gordon and the New York Theatre Workshop.
RENT is presented through special arrangement with Music Theatre International (MTI). All authorized performance materials are also supplied by MTI. mtishows.com
Sponsors