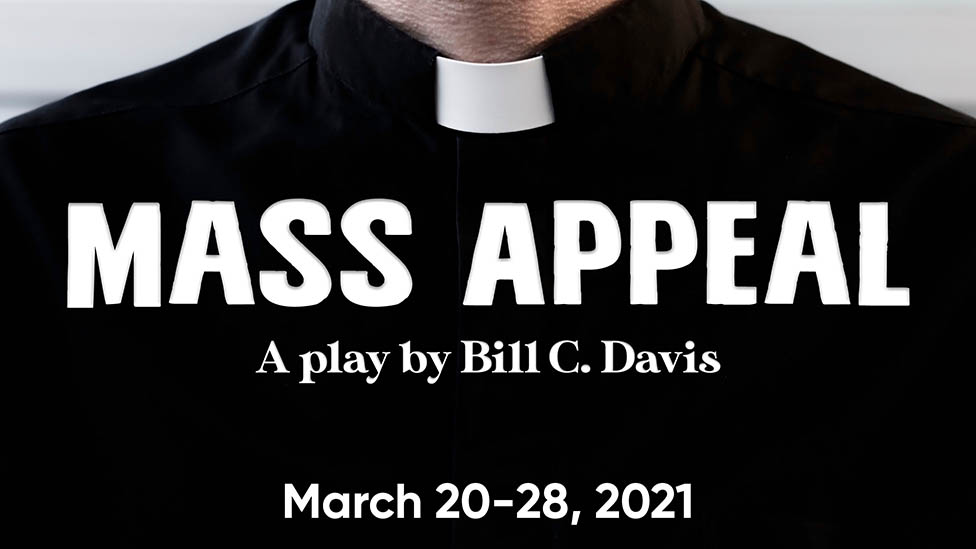 Mass Appeal
March 20 - March 28, 2021
A Play by Bill C. Davis
This play explores the conflict between an established older priest and the impassioned young seminarian. Set in the backdrop of the Catholic Church, this drama of "need to hear" vs. "want to hear" could be acted out in many different universes.
Performances
Tickets
TICKET PRICES
Reserved: $36 (Adult), $33 (Senior), $25 (Student 4 & up)
BEFORE YOU PURCHASE ...
... please take a moment to carefully review all of the policies below. We are working hard to provide the best experience possible to all patrons who wish to attend these events. Please expect that at a minimum masks will be required for ALL ATTENDEES and social distancing still required. Algonquin Arts Theatre reserves the right to amend policies at any time.
TICKET PURCHASING
Online purchases are limited to single tickets or parties seated in groups of 2. A limit of 12 (6 blocks of 2) tickets are available per online order.
If you would like your party of 3 or more seated together, please call the Box Office at 732-528-9211 to place your order and we will configure seating for you. (please leave a message if no answer).
ATTENDEE POLICIES
Patrons should not attend a performance and contact the Box Office to request a refund if:
1) They feel ill in any way.
2) Patron or a member of the household has tested positive for COVID-19 or is awaiting COVID-19 test results.
3) They are under quarantine following COVID-19 exposure.
4) They have traveled to a state on the NJ quarantine list in the last 14 days.

THEATRE POLICIES
Patrons and staff must wear masks at all times.
Both outer lobby and inner lobby doors will open 30 minutes prior to showtime (no indoor waiting area is available).
Attendance is capped at 125 per show. Seating will be distributed throughout the entire theatre to maximize distance between patrons. Patrons are required to sit in their ticketed seats.
Performers will be at least 12 feet from the audience. Row A, center, is not available for purchase. Performers are not required to wear masks on stage.
All areas will be cleaned and sanitized prior to each performance.
Our HVAC system will run constantly to circulate and filter air. As the weather turns colder, this will make the theatre feel cooler. Please bring a sweater.
Lobby Restrooms will be restricted to a capacity of 3 people.
Patrons are required to distance (6 feet) while waiting online for entry, restrooms or at our concession stand.
Intermission: For shows that have intermission, please do not congregate in the lobby or aisles. Please stay at your seating area or take a quick walk outside. With a 125-person audience, restroom lines will move very quickly. Intermission will not be shorter than 10 minutes from lights up to lights down.
AMENDED TICKET POLICIES
Our standard Ticket Policies remain in place, with the addition of the pandemic-specific policies noted below:
Our no refunds or exchanges policy remains in place, except:
1) If a performances cannot take place as scheduled for pandemic-related reasons (government restriction, exposure, artist availability, etc), a refund will be available within 7 days of the original performance date.
2) Patrons who cannot attend due to illness, a positive COVID-19 test, exposure to COVID-19 or quarantine rules can receive a refund if that refund is requested prior to the start of the performance (please email or leave a voicemail if we cannot answer the phone).

Will Call will operate in the theatre lobby. Will Call ticket holders should enter with their entire party via the single lobby door to check in on the day of the show.
No group rates are available for events that are capped at 250 or fewer attendees.
Event Information

Age Appropriate: Recommended for ages 13 & up. Show includes mature themes. Children under age 4 are not admitted.
Estimated Running Time: 2 hours including 1 intermission.
Synopsis
Father Tim Farley, a lover of the good things in life, is comfortably ensconced as priest of a prosperous Catholic congregation. Without realizing it, he has resorted to flattering his parishioners and entertaining them with sermons that skirt any disturbing issues, in order to protect his Mercedes, his trips abroad and the generous supply of fine wines that grace his table (and his desk drawer). His well-ordered world is disrupted by the arrival of Mark Dolson, an intense and idealistic young seminarian whom Father Farley reluctantly agrees to take under his wing.
There is immediate conflict between the two as the younger man challenges the older priest's sybaritic ways, while Father Farley is appalled by Mark's confession that he had led a life of bisexual promiscuity before entering the priesthood.
In the final essence their confrontation is a touching yet very funny examination of the nature of friendship, courage and the infinite variety of love, as the older man is reminded of the firebrand he once was, and the younger comes to realize that forbearance is as vital to the Christian ethic as righteousness.
The play was born from the author's inner dilemma. As an artist, does one say what he believes people need to hear or what they want to hear? The play is about the bravery needed to put principles before popularity.
MASS APPEAL premiered off-Broadway in New York City and then moved to Broadway in 1981. Since then it has been performed around the world. It was made into a movie starring Jack Lemmon with the screenplay written by Bill C. Davis.
The joy and key to this play is that audiences seem to relate to both characters and ironically this has, over the years, been what has given MASS APPEAL its mass appeal.
Sponsors
Interested in sponsoring a show at Algonquin Arts Theatre? Call 732-528-9211 for information.