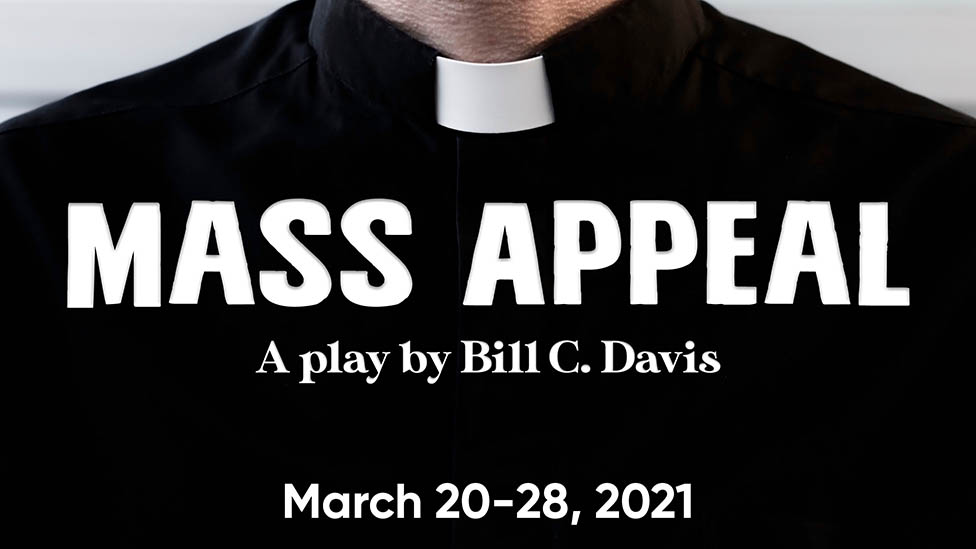 Mass Appeal
March 20 - March 28, 2021
A Play by Bill C. Davis
This play explores the conflict between an established older priest and the impassioned young seminarian. Set in the backdrop of the Catholic Church, this drama of "need to hear" vs. "want to hear" could be acted out in many different settings.
---
Performances
Saturday, March 20
8:00pm
Saturday, March 27
8:00pm
Event Information
Age Appropriate: Recommended for ages 13 & up. Show includes mature themes. Children under age 4 are not admitted.
Estimated Running Time: 2 hours including 1 intermission.
Synopsis
Father Tim Farley, a lover of the good things in life, is comfortably ensconced as priest of a prosperous Catholic congregation. Without realizing it, he has resorted to flattering his parishioners and entertaining them with sermons that skirt any disturbing issues, in order to protect his Mercedes, his trips abroad and the generous supply of fine wines that grace his table (and his desk drawer). His well-ordered world is disrupted by the arrival of Mark Dolson, an intense and idealistic young seminarian whom Father Farley reluctantly agrees to take under his wing.
There is immediate conflict between the two as the younger man challenges the older priest's sybaritic ways, while Father Farley is appalled by Mark's confession that he had led a life of bisexual promiscuity before entering the priesthood.
In the final essence their confrontation is a touching yet very funny examination of the nature of friendship, courage and the infinite variety of love, as the older man is reminded of the firebrand he once was, and the younger comes to realize that forbearance is as vital to the Christian ethic as righteousness.
The play was born from the author's inner dilemma. As an artist, does one say what he believes people need to hear or what they want to hear? The play is about the bravery needed to put principles before popularity.
MASS APPEAL premiered off-Broadway in New York City and then moved to Broadway in 1981. Since then it has been performed around the world. It was made into a movie starring Jack Lemmon with the screenplay written by Bill C. Davis.
The joy and key to this play is that audiences seem to relate to both characters and ironically this has, over the years, been what has given MASS APPEAL its mass appeal.
Cast & Creative Team
MARK MEGILL (Father Tim Farley) is an actor, music director and teacher, and is delighted to return to the Algonquin theatre, where he recently played Jack Jerome in Brighton Beach Memoirs. Other roles at the Algonquin include Maurice in Beauty and the Beast, Joe Boyd in Damn Yankees, Doolittle in My Fair Lady, Patsy in Spamalot, Herbie in Gypsy, Governor/Innkeeper in Man of La Mancha (Perry Award Nomination) and Marley in Scrooge (Perry Award Nomination). He played Jean Shepherd in the national tour of A Christmas Story, The Musical. Other roles include Arvide in Guys and Dolls, Jacob/Potiphar in Joseph, and FDR in Annie (with Andrea McCardle), all at the Axelrod Theatre in Deal. He has performed with such diverse talents as Duke Ellington, Andy Williams, Titanic in Concert at Lincoln Center (with Brian D'Arcy James and Michael Cerveris), A$AP Rocky, and with the Housewives of Monmouth County. When not onstage, he serves as musical director at the Algonquin Arts Theatre, The Count Basie Youth Theatre Program, and at The Spring Lake Community House. He retired after 35 years as a public school teacher, and was recently named to the Allentown High School Hall of Fame. He lives in Manasquan with his wife Maria and is a proud father and grandfather to Dante, Beckett and Sawyer.
GARRETT GALLINOT (Mark Dolson) is thrilled to be back on the Algonquin stage. Previous Algonquin credits include Kaffee in A Few Good Men. Other notable credits include Hamlet in Hamlet (Dover Little Theater), Romeo in Romeo and Juliet (Pax Amicus), and all 7 dwarves in Snow White (The Growing Stage). Garrett would like to thank his family and friends for all their support, the amazing production team, as well as all of you for coming out to support the arts! He'd also like to deeply thank both Mark and Derek for sharing not only their incredible wisdom, but also their enthralling stories!
DEREK HULSE (Director) received his B.A. in Theatre from DeSales University and his M.A. in Education from Georgian Court University and serves as an Assistant Principal in Point Pleasant Borough. Outside of education, Derek has worked on numerous area productions as an actor and director for over thirty years. Derek was last seen on the Algonquin stage as Sam in Mamma Mia! and most recently as Ebenezer Scrooge in Spring Lake Theatre's annual production of Scrooge! Some favorite directing credits include Private Lives, The Producers, Into The Woods, The Pirates of Penzance, Noises Off!, One Man, Two Guvnors, Godspell and his original comedy At Any Rate... Derek would like to thank Mark, Garrett and the entire production staff for this memorable experience. Much love to Colleen, Aidan and Liam!
JAN TOPOLESKI (Producer, Scenic & Sound Design). Algonquin's TD. Most recently: A Christmas Carol (One-man Show), King Arthur (Camelot), Ebenezer Scrooge (Christmas Carol the Musical) & The Old Man (A Christmas Story). Other roles: Juan Peron (Evita), Don Quixote (Man of La Mancha), Lord Farquaad (Shrek), Captain Von Trapp (Sound of Music), Emile De Becque (South Pacific). Directing credits include Noises Off, Carousel, South Pacific, The 39 Steps, Jekyll & Hyde, The Producers, A Few Good Men.
JOSEPH FICARRA (Production Manager) is proud to be producing once again for the Algonquin stage. Joe is the company's Production Manager but wears many hats around the theatre. He can be found at the back of the house mixing sound for the musicals, in the workshop building props, or on stage performing. Credits include such roles as The Ghost of Christmas Present (Scrooge!), Cliff (Cabaret), and Jigger (Carousel).
ROMAN KLIMA (Lighting Design) is a Lighting, Scenic, Sound & Video designer. His work has been seen at Algonquin Arts Theatre, The Bickford Theatre, Middlesex County College, Brookdale Community College, State Theater New Jersey, Middlesex County's Plays in the Park, The Forum Theater, & countless venues throughout the tristate area.
Sponsors
Interested in sponsoring a show at Algonquin Arts Theatre? Call 732-528-9211 for information.