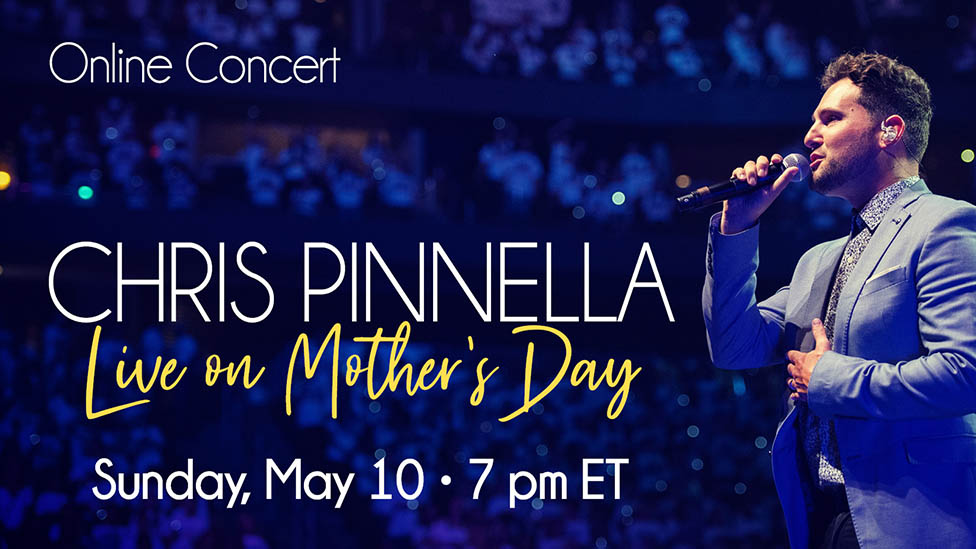 Chris Pinnella: Live on Mother's Day
Sunday, May 10, 2020
Tonight (May 10) join Chris Pinnella live on the Algonquin Facebook page for a concert dedicated to moms everywhere!
Pre-registration is closed, but the concert is open and free to all. Use the link below to visit our Facebook page at 7 pm ET.
Performances
Sunday, May 10
7:00pm - FREE
Event Information
Hi Everyone!
We're excited to connect you to some music from Algonquin crowd-favorite Chris Pinnella while giving you a chance to connect with family and friends anywhere in the world.
Set up a watch party on Facebook, call someone, or connect in the comments on the live video.
There is no charge to watch the concert.
The pandemic has impacted the entire arts community and our ability to connect with our audience. We're very much looking forward this opportunity to connect.
Stay well and see you soon!
- Algonquin Arts Theatre
Song List for Requests
STANDARDS
OUR LOVE IS HERE TO STAY
SMILE
THE NEARNESS OF YOU
WHAT A WONDERFUL WORLD
AUTUMN LEAVES
SOMEWHERE OVER THE RAINBOW
THE WAY YOU LOOK TONIGHT
GEORGIA ON MY MIND
FOR ONCE IN MY LIFE
A SONG FOR YOU
ALL THE WAY
THE SHADOW OF YOUR SMILE
MISC POP / CLASSIC / ROCK
FALL ON ME - ANDREA BOCELLI
YOU DON'T KNOW ME - MICHAEL BUBLE
UNCHAINED MELODY - THE RIGHTEOUS BROTHERS
AWAKE - JOSH GROBAN
WILDFLOWERS - TOM PETTY
BRIDGE OVER TROUBLED WATER - SIMON AND GARFUNKEL
HALLELUJAH - LEONARD COHEN
YOU'VE GOT A FRIEND - CAROLE KING
WILL YOU LOVE ME TOMORROW - CAROLE KING
SO FAR AWAY - CAROLE KING
AFTER THE GOLD RUSH - NEIL YOUNG
THE WATER IS WIDE - TRADITIONAL
CAN'T HELP FALLING IN LOVE - ELVIS
FEELS LIKE HOME - RANDY NEWMAN
ON A NIGHT LIKE THIS - DAVE BARNES
GROW AS WE GO - BEN PLATT
LEAN ON ME - BILL WITHERS
MY WAY - FRANK SINATRA / PAUL ANKA
TRUE COLORS - CYNDI LAUPER
VINCENT (STARRY STARRY NIGHT) - DON MCLEAN
TO MAKE YOU FEEL MY LOVE - BOB DYLAN
IT'S MY LIFE - BON JOVI
SOMETHING - THE BEATLES
YESTERDAY - THE BEATLES
ALL MY LOVIN'- THE BEATLES
IMAGINE - THE BEATLES
IN MY LIFE - THE BEATLES
LET IT BE - THE BEATLES
YOUR SONG - ELTON JOHN
MONA LISA'S AND MAD HATTERS - ELTON JOHN
TINY DANCER - ELTON JOHN
I'M STILL STANDING - ELTON JOHN
NEW YORK STATE OF MIND - BILLY JOEL
VIENNA - BILLY JOEL
SHE'S ALWAYS A WOMAN - BILLY JOEL
SHE'S GOT A WAY - BILLY JOEL
THE WISH - BRUCE SPRINGSTEEN
DANCING IN THE DARK - BRUCE SPRINGSTEEN
LIFT ME UP - BRUCE SPRINGSTEEN
MY HOMETOWN - BRUCE SPRINGSTEEN
IF I SHOULD FALL BEHIND - BRUCE SPRINGSTEEN
JERSEY GIRL - TOM WAITS
Sponsors
Please consider ordering a Mother's Day meal for you, for mom or for anyone to enjoy!
Brandl (Belmar)
Special Mother's Day 3-Course Prefix. View Details.
Norton's Main Scoop (Manasquan)
Starting May 2: Open 4-8 pm Thursday-Sunday. Online ordering, curbside pickup. Order Online.
Special thanks to all of our Dining Partners, who support the Algonquin year-round.
Qua Pizza (Manasquan)
Closed Mother's Day, but open for takeout & delivery 12-8 pm M-TH and 12-9 pm on F & SAT. Details & Discounts.