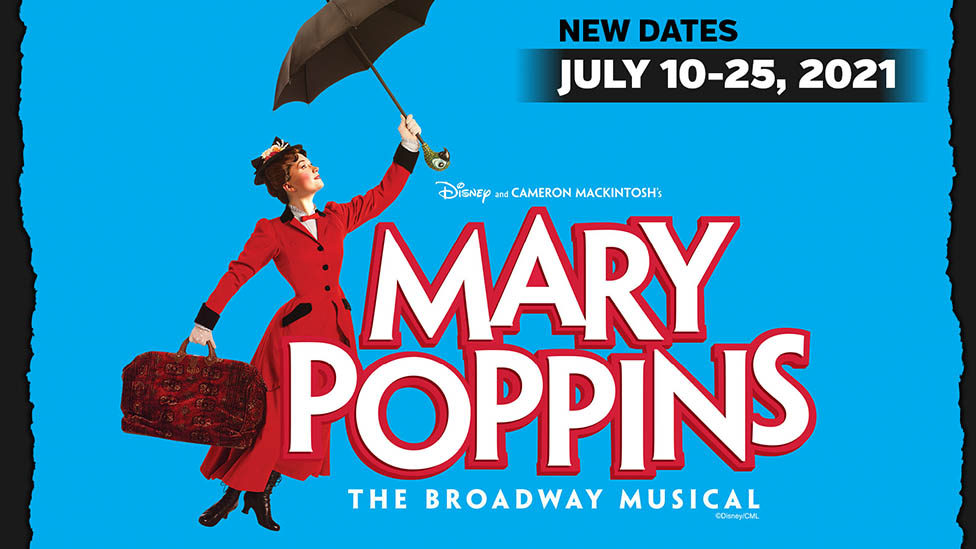 TENTATIVE DATES
Mary Poppins
July 10 - July 25, 2021
This production is currently off sale. Ticket sales will resume if and when we determine that it will be safe to commence production and our capacity limits have been lifted.
Performances
Saturday, July 10
7:30pm - Was: 7/11/2020
Sunday, July 11
3:00pm - Was: 7/12/2020
Friday, July 16
7:30pm - Was: 7/17/2020
Saturday, July 17
7:30pm - Was: 7/18/2020
Sunday, July 18
3:00pm - Was: 7/19/2020
Thursday, July 22
2:00pm - Was: 7/23/2020
Friday, July 23
7:30pm - Was: 7/24/2020
Saturday, July 24
7:30pm - Was: 7/25/2020
Sunday, July 25
3:00pm - Was: 7/26/2020
Tickets
Tickets are not on sale for this event. Please join our mailing list to be notified when tickets go back on sale.
Pricing
Premium: $41 (Adult), $38 (Senior), $32 (Student 4 & up)
Regular: $33 (Adult), $30 (Senior), $24 (Student 4 & up)
Event Information
Estimated Running Time: 2 hours, 45 minutes
Intermission: Yes
Kid Friendly: Recommended for ages 6 & up. Please note that children under age 4 will not be admitted.
Synopsis
Everyone's favorite practically perfect nanny takes the stage in this Supercalifragilisticexpialidocious musical adventure.
One of the most popular Disney movies of all time is capturing hearts in a whole new way: as a practically perfect musical! Based on the books by P.L. Travers and the classic Walt Disney film, Disney and Cameron Mackintosh's Mary Poppins delighted Broadway audiences.
The jack-of-all trades, Bert, introduces us to England in 1910 and the troubled Banks family. Young Jane and Michael have sent many a nanny packing before Mary Poppins arrives on their doorstep. Using a combination of magic and common sense, she must teach the family members how to value each other again. Mary Poppins takes the children on many magical and memorable adventures, but Jane and Michael aren't the only ones upon whom she has a profound effect. Even grown-ups can learn a lesson or two from the nanny who advises that "Anything can happen if you let it."
Cast & Creative Team
This show has not yet held auditions. Visit our
audition page
for more information.
Credits
The Algonquin Arts Theatre production of

Disney and Cameron Mackintosh's
MARY POPPINS

A Musical based on the stories of P.L. Travers and the Walt Disney Film

Original Music and Lyrics by Richard M. Sherman and Robert B. Sherman
Book by Julian Fellowes
New Songs and Additional Music and Lyrics by George Stiles and Anthony Drewe
Co-Created by Cameron Mackintosh

A Musical based on the stories of P.L. Travers and the Walt Disney Film

Disney and Cameron Mackintosh's Mary Poppins is presented through special arrangement with Music Theatre International (MTI). All authorized performance materials are also supplied by MTI. www.mtishows.com
Sponsors