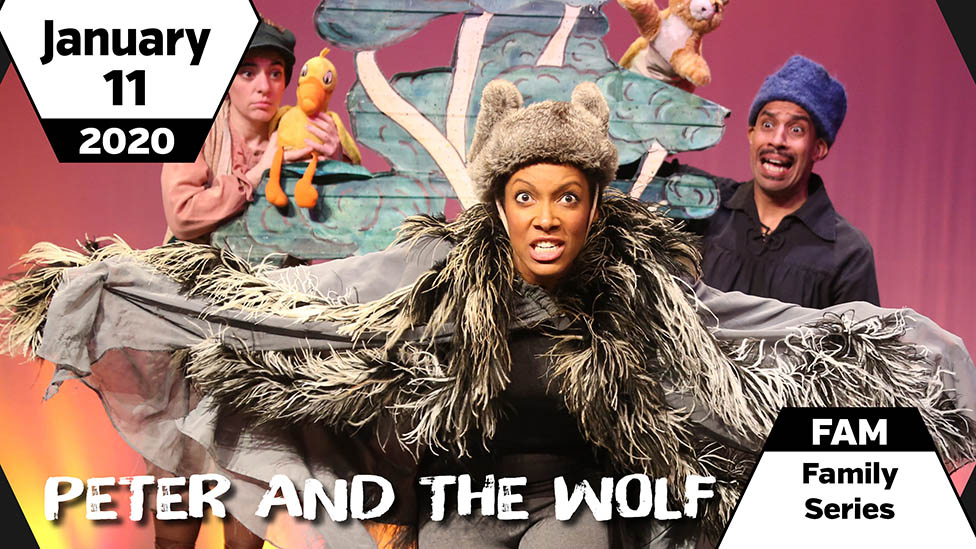 Pushcart Players'
Peter & The Wolf
Saturday, January 11, 2020
This tantalizing version of the classic Russian folk tale, Peter & The Wolf brings together all the elements of growing up - daring, defiance, confidence and courage.
Performances
Saturday, January 11
11:00am
Tickets
Event Information
Running time: Approximately 60 minutes
Intermission: No
Kid Friendly: All Ages Show. All attendees ages 2 & up require a ticket. Children under 2 without a ticket must sit on an adult's lap.
Note: No infant/portable car seats or strollers are permitted in the theatre. Car seat boosters (without backs) are permitted.
Synopsis
THE MUSIC: A different instrument and melody (or "leitmotif") represents each character of the play, creating an excellent link to understanding all types of music.
THE STORY: A true adventure about a spirited young boy who meets the challenge of danger with courage, creativity and leadership.
THE CELEBRATION: The value of love, friendship and caring. The lessons of greed, arrogance and prejudice. There is innocence and wisdom, youth and maturity, conflict resolution, moral development, and beauty in the natural order of life!
Credits
Produced by Pushcart Players
Presented by Algonquin Arts Theatre
Sponsors
Interested in sponsoring a show at Algonquin Arts Theatre? Call 732-528-9211 for information.