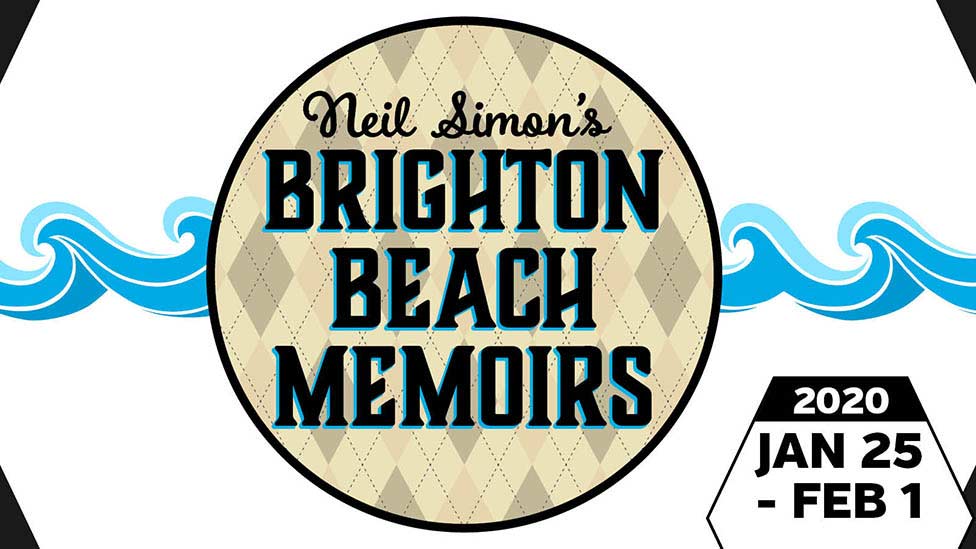 Neil Simon's
Brighton Beach Memoirs
January 25 - February 1, 2020
A perfect coming-of-age comedy, Neil Simon's Brighton Beach Memoirs follows Eugene Morris Jerome as he navigates the problems that come with being a teenager during the Great Depression.
Performances
Saturday, January 25
2:00pm
Saturday, January 25
8:00pm
Sunday, January 26
3:00pm
Friday, January 31
8:00pm
Saturday, February 1
2:00pm
Saturday, February 1
8:00pm
Tickets
Subscriptions available: Learn More.
Pricing
Premium: $40 (Adult), $37 (Senior), $31 (Student 4 & up)
Regular: $32 (Adult), $29 (Senior), $23 (Student 4 & up)
Event Information
Running time: Approximately 2 hours, 30 minutes including intermission.
Intermission: Yes
Kid Friendly: Contains some mature themes & language. Recommended for ages 12 & up - Please note that children under age 4 will not be admitted.

Synopsis
Set in Brooklyn, New York, Brighton Beach Memoirs tells the story of a large Polish-Jewish family living in one household during The Great Depression. The events are told through Eugene's honest, sarcastic "memoirs" and follow the Jerome family through a financial crisis, health concerns and a search for identity.
A Broadway classic and one of Simon's most popular plays, Brighton Beach Memoirs had its debut in 1983, starring Matthew Broderick as the snarky protagonist, Eugene. The show had almost 1,300 performances and took home two Tony Awards, before being adapted into a 1986 movie starring Jonathan Silverman and Blythe Danner.
"Hilarious comedy ... His finest play ... A delightful and enriching experience," CBS-TV said.
Cast & Creative Team
Eugene Jerome: JAMES GRANDE
Stanley Jerome: MATTHEW GIUNCO
Jack Jerome: MARK MEGILL
Kate Jerome: PAMELA WARD
Blanche: GINA LUPI
Nora: JULIA LUPI
Laurie: SOPHIE CREED
Director: IAN MOORE
Stage Manager: KERIELLE SOLLECITO
Credits
BRIGHTON BEACH MEMOIRS
Written by Neil Simon
BRIGHTON BEACH MEMOIRS is presented by special arrangement with Samuel French, Inc.
Sponsors
Algonquin Arts Theatre Board of Trustees