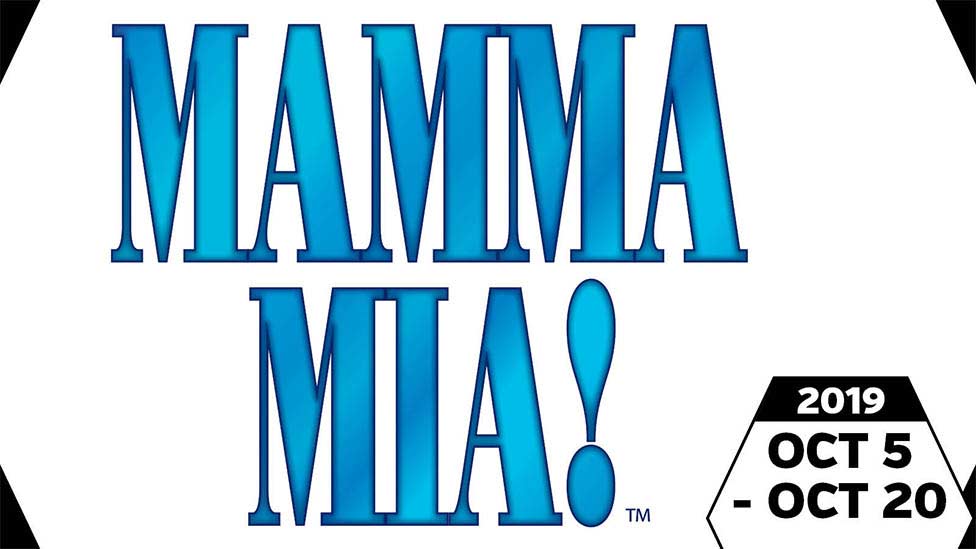 Mamma Mia!
October 5 - October 20, 2019
ABBA's hits. A mother. A daughter. Three possible dads. And a trip down the aisle you'll never forget.
Performances
Tickets
Subscriptions available: Learn More.
Pricing
Premium: $40 (Adult), $37 (Senior), $31 (Student 4 & up)
Regular: $32 (Adult), $29 (Senior), $23 (Student 4 & up)
Event Information
Running time: Approximately 2 hours, including intermission.
Intermission: Yes
Kid Friendly: Recommended for ages 11 & up - Please note that children under age 4 will not be admitted.

Synopsis
Set on a Greek island paradise, Mamma Mia! follows Sophie Sheridan in her quest to find her birth father on the night before her wedding. Without telling her mother, Sophie invites three men suspected to be her father to the wedding.
Mamma Mia! is the longest-running Broadway jukebox musical, with almost six thousand performances in its 14-year run. The musical has two film adaptations, both starring Meryl Streep and Amanda Seyfried.
With favorite ABBA hits like "Dancing Queen," "Super Trouper," and "Mamma Mia," Mamma Mia! is the perfect feel-good show.
Cast & Creative Team
Sophie: LIZZY LEGREGIN
Donna: LYNNE TRUEX
Sam: DEREK HULSE
Bill: DAVID FUSCO
Harry: ANTHONY GRECO
Tanya: KATIE RALEIGH
Rosie: GINA LUPI
Sky: DYLAN SCIFO
Lisa: JULIA LUPI
Ali: RACHEL N. BALKO
Pepper : ANTHONY BROCCOLI
Eddie: NICK D'AMBROSIA
Ensemble: JOHN ALBRECHT, GAVIN BAILEY, JOSEPH BRYANT, SEAN CALLAHAN, ARIANA CENTAMORE, REBECCA CONN, BRENDAN FLANAGAN, BYRON FLORES JR., COLLEEN HULSE, EDWARD ITTE, JACLYN ITTE, LINDSEY MONACO, CHRISSY REINHARD, QUINCY SOUTHERLAND, FAITH STACK, HANNAH TEZA, OLIVIA TOTARO, JOHN WISIENSKI
Director & Choreographer: JESSICA O'BRIEN
Musical Director: STEPHEN STROUSE
Producer: JOE FICARRA
Stage Manager: SEAN KATZ
Credits
MAMMA MIA!
Music and Lyrics by Benny Andersson and Björn Ulvaeus and Some Songs with Stig Anderson
Book by Catherine Johnson
Originally Conceived by Judy Craymer
Additional Material and Arrangements by Martin Koch
Music Published by Universal Music Publishing Group, EMI Grove Park Music Inc. and EMI Waterford Music Inc.
MAMMA MIA! was originally produced in London by Judy Craymer, Richard East and Björn Ulvaeus for Littlestar in association with Universal.
MAMMA MIA! is presented through special arrangement with Music Theatre International (MTI). All authorized performance materials are also supplied by MTI. www.MTIShows.com
Sponsors