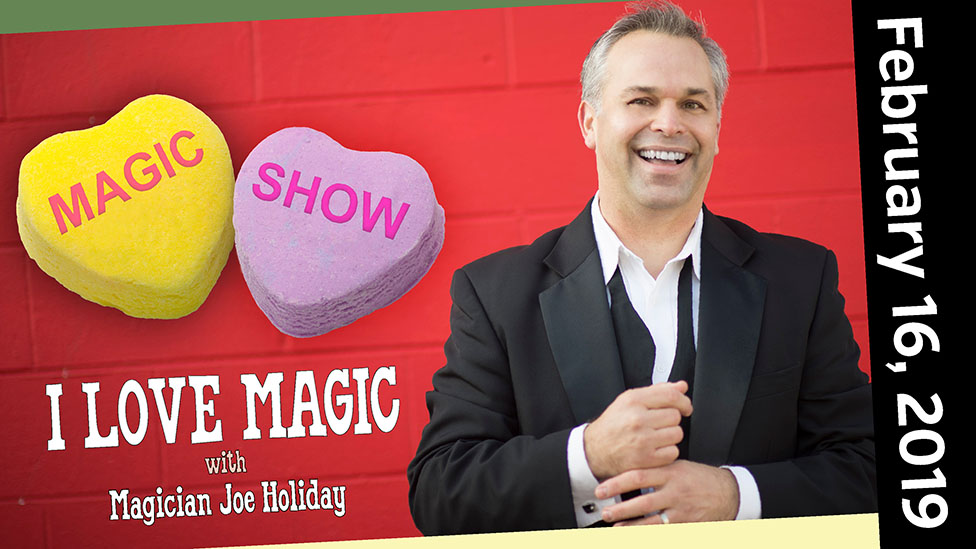 Magic Show
I LOVE Magic
Saturday, February 16, 2019
with magician Joe Holiday
The ever-popular Joe Holiday is back with breath-taking feats of magic and illusion that you're sure to LOVE.
Performances
Saturday, February 16
11:00am
Tickets
Adult: $15
Senior: $12
Child: $10
Event Information
Running time: Approximately 60 minutes
Intermission: No
Kid Friendly: All Ages Show. All attendees ages 2 & up require a ticket. Children under 2 without a ticket must sit on an adult's lap.
Note: No infant/portable car seats or strollers are permitted in the theatre. Car seat boosters (without backs) are permitted.
Synopsis
Award winning Magician Joe Holiday returns with a unique and exciting magic show for the entire family. Witness breath-taking feats of magic and Illusion with a Valentine's Day theme. A mix of traditional and classic magic effects with state of the illusions that with bend reality and make you question what is possible. You may even have a chance to join the show on stage and be a part of the magic! Bring your loved ones to this family magic show and experience something truly unforgettable!
Credits
Presented by Algonquin Arts Theatre
Sponsors
Interested in sponsoring a show at Algonquin Arts Theatre? Call 732-528-9211 for information.