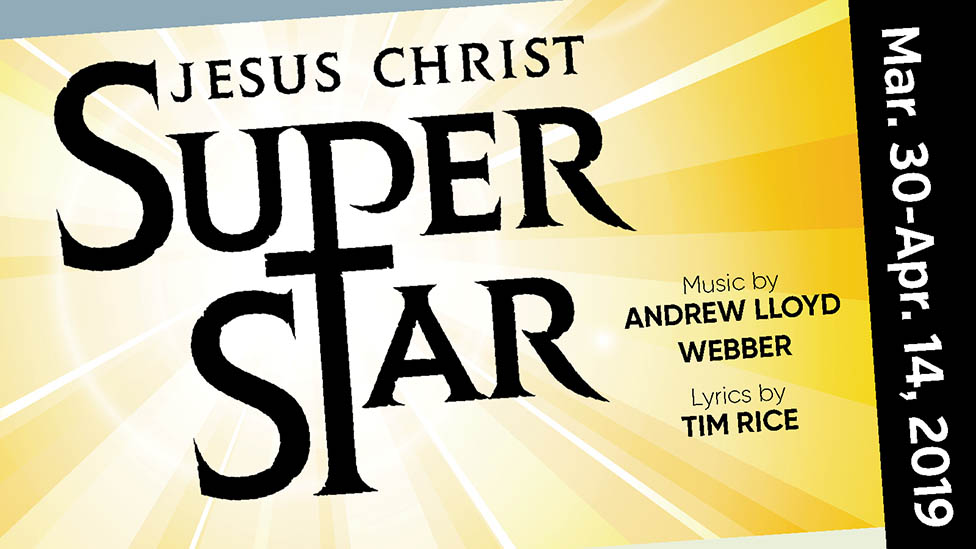 Jesus Christ Superstar
March 30 - April 14, 2019
Andrew Lloyd Webber & Tim Rice's timeless score tells of the final week of Jesus' life through the eyes of Judas Iscariot.
Performances
Saturday, March 30
8:00pm
Saturday, April 13
2:00pm
Saturday, April 13
8:00pm
Sunday, April 14
3:00pm - SOLD OUT
Tickets
Event Information
Running time: Approximately 2 hours, including intermission.
Intermission: Yes
Kid Friendly: Recommended for ages 11 & up - Please note that children under age 4 will not be admitted.
Synopsis
Loosely based on the Gospels of Matthew, Mark, Luke and John, Superstar follows the last week of Jesus Christ's life. The story, told entirely through song, explores the personal relationships and struggles between Jesus, Judas, Mary Magdalene, his disciples, his followers and the Roman Empire.
The first musical by Andrew Lloyd Webber and Tim Rice to be produced for the professional stage, Jesus Christ Superstar has wowed audiences for more than 40 years. A timeless work, the rock opera is set against the backdrop of an extraordinary and universally-known series of events but seen, unusually, through the eyes of Judas Iscariot. The iconic 1970s rock score contains such well-known numbers as "Superstar," "I Don't Know How to Love Him" and "Gethsemane" that have made it a true global phenomenon.
Cast & Creative Team
Jesus: AARON RICHARD BURT
Judas: ROB RYAN
Mary : ALICIA DISHON
Pilate : STEPHEN RUBINO
Herod: BRENDAN FLANAGAN
Annas : DAVID J FRETZ
Caiphais: GREGORY NEWTON
Peter: SEAN DICKINSON
Simon: ZACK JAMES
Apostle/Ensemble: SHAUN KATZ
Apostle/Ensemble: RONI BANERJEE
Apostle/Ensemble: JOSEPH BRYANT
Apostle/Ensemble: JOHN WISIENSKI
Apostle/Ensemble: STEPHEN DOUCETTE
Apostle/Ensemble: NICOLAS HEWGLEY
Apostle/Ensemble: PAULINO DIAZ JR
Apostle/Ensemble: JOSEPH MARTINEZ
Ensemble: NORMAN "DOC" HART
Ensemble: NATALIE HAYES
Ensemble: LINDSEY MONACO
Ensemble: JULIA LUPI
Ensemble: ERIN McEVOY
Ensemble: JULIA CICCHINNO
Ensemble: LEAH KRUPNICK
Ensemble: LIZZY LEGREGIN
Directed by GINA LUPI
Credits
JESUS CHRIST SUPERSTAR
Music by Andrew Lloyd Webber
Book & Lyrics by Tim Rice
JESUS CHRIST SUPERSTAR is presented by arrangement with The Musical Company, LP, 214 Sullivan Street, Ste. 4, New York, NY 10012-1354. themusicalcompany.com Phone: 212-589-2204. Email: [email protected]
Logo: TM (copyright) 1991 The Really Useful Group Ltd.
Sponsors
Sponsored by
Gerri & Richard Venino
and
C. Keith Henderson & Associates