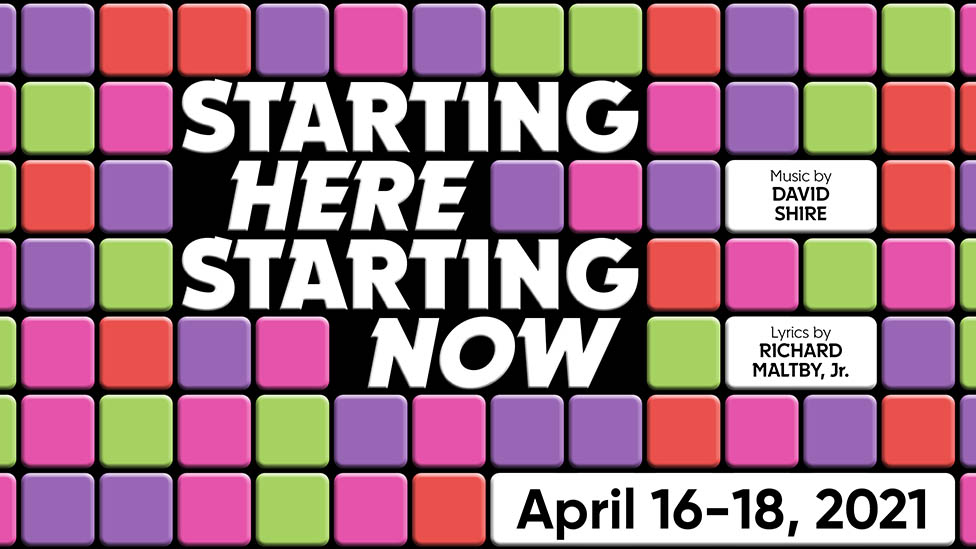 Starting Here, Starting Now
April 16 - April 18, 2021
A Musical Revue
From first kiss to painful breakup, romantic relationships come full circle in this intimate musical revue starring Kat Le Fevre, Rebecca Madeira and Michael Morch.
Starting Here, Starting Now is a thrilling and touching musical revue using the songs of Richard Maltby, Jr., and David Shire (Big, Baby, Closer Than Ever). In 24 songs, Starting Here, Starting Now offers a tender-tough inventory of love and the lonesome lack thereof.
Maltby's wry lyrics combined with Shire's buoyant music, forge a fast-moving, ingratiating look at how love can go right, wrong or nowhere. Using songs from their various early musicals (produced or otherwise), this bold journey takes a winsome cast of three through the maze of modern relationships with its heart firmly on its sleeve.
As with all of Maltby and Shire's work, each song is an impeccably crafted story - original, engaging, bursting with character and showcasing the versatility and charisma of its performer.
From tender ballads to hysterical husband-hunting laments, from wry comments on trendy marriages to ecstatic shouting-from-the-rooftop celebration, Starting Here, Starting Now has an appealing freshness that has made it a favorite a theatres big and small.
Performances
Tickets
TICKET PRICES
Reserved: $36 (Adult), $33 (Senior), $25 (Student 4 & up)
BEFORE YOU PURCHASE ...
... please take a moment to carefully review all of the policies below. We are working hard to provide the best experience possible to all patrons who wish to attend these events. Please expect that at a minimum masks will be required for ALL ATTENDEES and social distancing still required. Algonquin Arts Theatre reserves the right to amend policies at any time.
TICKET PURCHASING
Online purchases are limited to single tickets or parties seated in groups of 2. A limit of 12 (6 blocks of 2) tickets are available per online order.
If you would like your party of 3 or more seated together, please call the Box Office at 732-528-9211 to place your order and we will configure seating for you. (please leave a message if no answer).
SELF-SCREENING
Patrons should not attend a performance and contact the Box Office to request a refund if:
1) They feel ill in any way.
2) Patron or a member of the household has tested positive for COVID-19 or is awaiting COVID-19 test results.
3) They are under quarantine following COVID-19 exposure.
4) They have traveled to a state on the NJ quarantine list in the last 14 days.

THEATRE POLICIES
Patrons and staff must wear masks at all times.
Both outer lobby and inner lobby doors will open 30 minutes prior to showtime (no indoor waiting area is available).
Attendance is capped at 125 per show. Seating will be distributed throughout the entire theatre to maximize distance between patrons. Patrons are required to sit in their ticketed seats.
Performers will be at least 12 feet from the audience. Row A, center, is not available for purchase. Performers are not required to wear masks on stage.
All areas will be cleaned and sanitized prior to each performance.
Our HVAC system will run constantly to circulate and filter air. This will make the theatre feel cooler - Please bring a sweater even in warm weather.
Lobby Restrooms will be restricted to a capacity of 3 people.
Patrons are required to distance (6 feet) while waiting online for entry, restrooms or at our concession stand.
Intermission: For shows that have intermission, please do not congregate in the lobby or aisles. Please stay at your seating area or take a quick walk outside. With a 125-person audience, restroom lines will move very quickly. Intermission will not be shorter than 10 minutes from lights up to lights down.
AMENDED TICKET POLICIES
Our standard Ticket Policies remain in place, with the addition of the pandemic-specific policies noted below:
Our no refunds or exchanges policy remains in place, except:
1) If a performances cannot take place as scheduled for pandemic-related reasons (government restriction, exposure, artist availability, etc), a refund will be available within 7 days of the original performance date.
2) Patrons who cannot attend due to illness, a positive COVID-19 test, exposure to COVID-19 or quarantine rules can receive a refund if that refund is requested prior to the start of the performance (please email or leave a voicemail if we cannot answer the phone).

Will Call will operate in the theatre lobby. Will Call ticket holders should enter with their entire party via the single lobby door to check in on the day of the show.
No group rates are available for events that are capped at 250 or fewer attendees.
Event Information
Age Appropriate: Recommended for ages 13 & up. Mature themes. Children under age 4 are not admitted.
Estimated Running Time: 1 hour, 50 minutes including 1 intermission.
Cast & Creative Team
KAT LE FÈVRE is no stranger to the Algonquin stage, having appeared as the past title roles of Peter in Peter Pan and Anna Leonowens in The King & I. She is a member of the Actors' Equity Association, and has performed in a multitude of productions in the NJ region (favorite credits include Mary Poppins at The Count Basie, Princess Fiona in Shrek, and Fantine in Les Miserables, both performed at Middlesex County's Plays in the Park.) For the past couple years, Kat has performed as a mainstage singer with The Walt Disney Company, portraying characters such as Mrs. Potts in Beauty and The Beast, Mary Poppins in Believe, and Cruella De Vil in The Golden Mickey's onboard Disney Cruise Line. She was apart of the original casts of three shows, portraying the characters of Carina Smyth in The Pirates of The Caribbean deck show Hunt Fer Jack (DCL), The Hostess in the Disney Villains musical review, Let's Get Wicked, and Sally in Journey to Halloweentown, both located in Hong Kong Disneyland. She holds a B.A. in Music from New Jersey City University and will be attending New York University Steinhardt this fall to complete her Masters in Musical Theatre Performance & Vocal Pedagogy. She thanks Gina and the Algonquin team for all their support and friendships over the years. katlefevre.com.
REBECCA MADEIRA is so excited to be back at the Algonquin after last appearing here as Ariel in The Little Mermaid. She will be graduating with a degree in music this May from Rutgers, where some of her favorite roles have been in Sweeney Todd (Mrs. Lovett), She Loves Me (Amalia) and Into the Woods (The Witch). She is endlessly thankful for her amazing family, teachers, Gina, Stephen, Kat, and Michael! 1 Thessalonians 5:16-18.
MICHAEL MORCH. This past year, during one of the endless days of not leaving the house, I remember watching The Prom on Netflix. After the finale I recall saying out loud, with nostalgic tears in my eyes, "God I miss performing" ... Thank goodness we are back. I am so beyond thrilled to be returning to the Algonquin stage in Starting Here, Starting Now. To be able to return as part of such a unique show with this talented cast has been such a joy, and I hope the audiences will enjoy it as much as we have fun performing it! Algonquin Credits: Roger De Bris (The Producers), Greg (A Chorus Line), Sky Masterson (Guys & Dolls), Frederick Fellows (Noises Off), Bob Wallace (White Christmas), Fred Gailey (Miracle on 34th Street The Musical) and the quartet in My Fair Lady.Thank you to Gina, Steven, and Kathleen for bringing us all together and back "home". Also, as always, love and thanks to Vinny - we haven't killed each other yet!
STACIA HARR (Girl with balloon) is excited to be making her stage debut in this production! To further her budding enthusiasm for performance, she recently participated in an 8-week introduction to musical theatre class at the Algonquin and thoroughly enjoyed the experience. She would like to thank Julie Nagy for her encouragement in that class, her family for their love and support, and the cast and crew of Starting Here, Starting Now for this opportunity.
GINA LUPI (Director) is thrilled to be back working at the AAT after a long year away. Directing credits: Kiss Me Kate, A Christmas Story, Peter Pan, The Buddy Holly Story, Damn Yankees, The King and I, The Glass Menagerie, Annie Get Your Gun, The Full Monty, Gypsy, Pride & Prejudice and Man Of La Mancha. AAT Stage Manager for: Annie, Newsies, The Producers, and South Pacific to name a few. Gina most recently appeared on the AAT stage as Rosie in Mamma Mia!, the Wardrobe in Beauty and the Beast, Prudy in Hairspray and Gingy in Shrek. Gina was the recipient of the 2009 NJACT/Perry Awards for Outstanding Director for Little Women and Outstanding Supporting Actress for Mame.
STEPHEN STROUSE (Musical Director/Conductor) is thrilled to be working on Starting Here Starting Now. Relearning how to create in our current environment has been both rewarding and invigorating. He recently retired after 36 years of teaching. Stephen is very fortunate to have a wife who gives him continuous and loving support for which he is very grateful. Algonquin Credits: The Music Man; 13; The Wizard of Oz; A Charlie Brown Christmas; Shrek; King and I; The 25th Annual Putnam County Spelling Bee; The Little Mermaid; Elf, Jr; Buddy: The Buddy Holly Story; The Fantasticks; Beauty and the Beast; Algonquin the Musical; Camelot; Newsies; A Chorus Line; Mamma Mia; Cabar-AYE
JAN TOPOLESKI (Producer, Scenic & Sound Design). Algonquin's TD. Most recently: A Christmas Carol (One-man Show), King Arthur (Camelot), Ebenezer Scrooge (Christmas Carol the Musical) & The Old Man (A Christmas Story). Other roles: Juan Peron (Evita), Don Quixote (Man of La Mancha), Lord Farquaad (Shrek), Captain Von Trapp (Sound of Music), Emile De Becque (South Pacific). Directing credits include Noises Off, Carousel, South Pacific, The 39 Steps, Jekyll & Hyde, The Producers, A Few Good Men.
JOSEPH FICARRA (Production Manager) is proud to be producing once again for the Algonquin stage. Joe is the company's Production Manager but wears many hats around the theatre. He can be found at the back of the house mixing sound for the musicals, in the workshop building props, or on stage performing. Credits include such roles as The Ghost of Christmas Present (Scrooge!), Cliff (Cabaret), and Jigger (Carousel).
ROMAN KLIMA (Lighting Design) is a Lighting, Scenic, Sound & Video designer. His work has been seen at Algonquin Arts Theatre, The Bickford Theatre, Middlesex County College, Brookdale Community College, State Theater New Jersey, Middlesex County's Plays in the Park, The Forum Theater, & countless venues throughout the tristate area.
Sponsors
Interested in sponsoring a show at Algonquin Arts Theatre? Call 732-528-9211 for information.