Page & Stage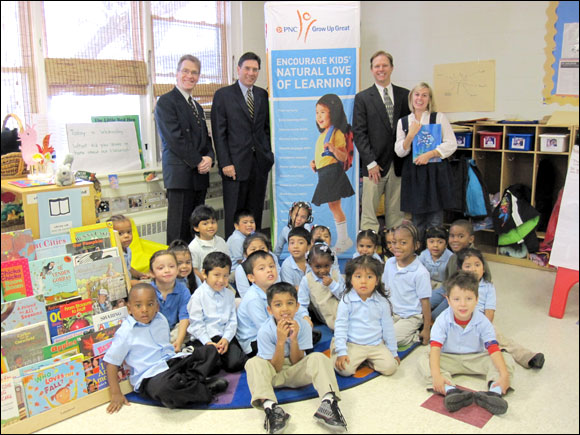 Students of the Asbury Park Page & Stage program featured with Joseph Whall and Kevin Tylus of PNC and William Whitefield and Julie Nagy of Algonquin Arts Theatre.
This program is made possible by generous lead support from:
A free literacy program, for approximately 460 and growing at-risk 3-to-5-year-old children from five local Head Start Centers, which uses in-class workshops led by a teaching artist to help students explore characters and themes of plays through interactive activities.
Workshops, offered four times per year to each class, prepare students for fieldtrips to live performances and help students come away with a better understanding of literary characters, story lines and themes.
Following each performance, each participating child is given a free copy of the book on which the play was based.
The arts have the power to engage and focus young people, increase academic performance and facilitate social development. Page and Stage introduces children to the arts at an early age and gives them an opportunity to explore literary themes on a deeper level. The program also helps children build a personal library of classic books. Teachers have indicated that after participating in the Page and Stage program, their students demonstrate an increased interest in reading and literacy.
Page and Stage is an early literacy program designed to foster a love of reading by using theatre arts to bring story characters to life for young children. Page and Stage began in the 2007-2008 school year in Asbury Park and each year AAT has been able to expanded the program to one additional Abbott school district each year. The following school districts that have been served by this program are the following Acelero Learning Centers located in Asbury Park, Neptune, Keyport, Howell, Red Bank, Freehold Twp. and new to the program as of 2016-2017 school year; Monmouth Day Care Center located in Red Bank, NJ.
The 2016-2017 season features the following books/plays:
SkippyJon Jones: Snow What | Lesson: Perseverance, Leadership, Team Work, Problem Solving, Discovering, Picture Dictionary, Literature-Based, Language/Communication Skills, World Language, Musical/ Rhythm
The Monster Who Ate My Peas | Lesson: Facing Fears and inspiring Courage, Actions and Consequences, Responsibility, Character, Hygiene and Health, Value, Literature-Based
Lyle, Lyle Crocodile | Lesson: Order of Events and Sequence, Repetition, Making Choices, Instruction and Following Direction, Relationships, Literature-Based
Biscuit | Lesson: Personality, Reaction, Literature-Based Phonics: Syllable words, Synonyms, matching, Rhymes and Picture Dictionary
To inquire about involving your school in a similar program, please visit our Classroom Workshops page.