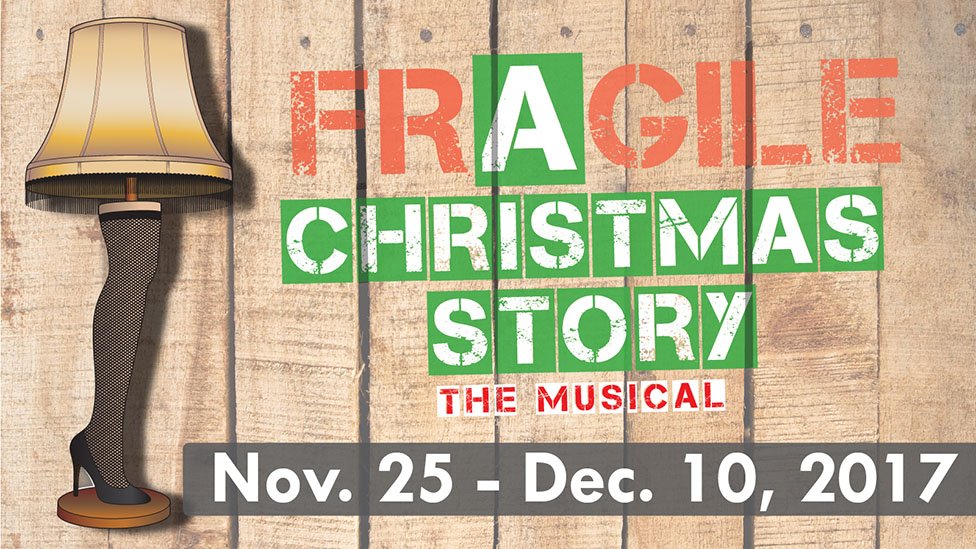 A Christmas Story, The Musical
November 25 - December 10, 2017
The hilarious account of Ralphie's desperate quest to ensure that this most perfect of gifts ends up under his Christmas tree.
Performances
Saturday, November 25
7:30pm
Sunday, November 26
3:00pm
Friday, December 1
7:45pm - * See Note Below
Saturday, December 2
2:00pm
Saturday, December 2
7:30pm
Sunday, December 3
3:00pm
Friday, December 8
7:30pm
Saturday, December 9
2:00pm
Saturday, December 9
7:30pm
Sunday, December 10
3:00pm
Tickets
Premium: $40 (Adult), $37 (Senior), $31 (Student)
Regular: $32 (Adult), $29 (Senior), $23 (Student)
Group Rates Available: Learn More
New: Please Note That Advertised Prices Include All Per Ticket Fees
Event Information
Running time: Approximately 2 hours, 30 minutes
Intermission: Yes
Kid Friendly: Recommended for ages 6 & up - Please note that children under age 4 will not be admitted.
* The Manasquan Candy Cane hunt is scheduled for Friday, December 1. Parking in downtown Manasquan will be limited. The curtain may be held to allow for patrons participating in Candy Cane hunt to arrive.
Synopsis
Set in the 1940s in the fictional town of Hohman, Indiana, the musical follows 9-year-old Ralphie Parker and his quest for the Holy Grail of Christmas gifts - an Official Red Ryder carbine-action 200-shot Range Model air rifle. Rebuffed at every turn with a similar echoing response, Ralphie plots numerous schemes to achieve his desperate desire for the coveted BB gun. All the iconic scenes from the movie are here: Ralphie's friend, Flick, getting his tongue stuck to the flagpole; his brother, Randy, getting dressed in his snowsuit; the bullies, Farkus and Dill; the leg lamp award; the bunny suit; the Chinese restaurant; Christmas dinner; and many others. The delightfully versatile score ranges from gentle ballads to show-stopping full-ensemble numbers such as "Ralphie to the Rescue!", "A Major Award," "Sticky Situation," "Up on Santa's Lap," "Somewhere Hovering Over Indiana" and the inevitable "You'll Shoot Your Eye Out!"
A Christmas Story, which received rave reviews on its Broadway run, is based on the classic 1983 movie that runs round-the-clock on television every Christmas. The story itself was based on stories by legendary radio humorist Jean Shepherd, and features funny and heartfelt songs coupled with a faithful yet inventive book by Joseph Robinette. A Christmas Story, The Musical will bring an exciting new dimension to those who have seen the movie and will certainly stand on its own for those who haven't. It captures holiday wonder with such deliciously wicked wit that it is sure to delight children and grown-ups alike!
Credits
A CHRISTMAS STORY, THE MUSICAL
Book by Joseph Robinette
Music and lyrics by Benj Pasek and Justin Paul
Based on the motion picture A Christmas Story distributed by Warner Bros., written by Jean Shepherd, Leigh Brown and Bob Clark, and upon In God We Trust: All Others Pay Cash written by Jean Shepherd.
Produced with permission of Warner Bros. Theatre Ventures and Dalfie Entertainment.
Produced by special arrangement with THE DRAMATIC PUBLISHING COMPANY of Woodstock, Illinois.
An Algonquin Arts Theatre production.
Sponsors
Interested in sponsoring an event at Algonquin Arts Theatre? Call 732-528-4336 for information.