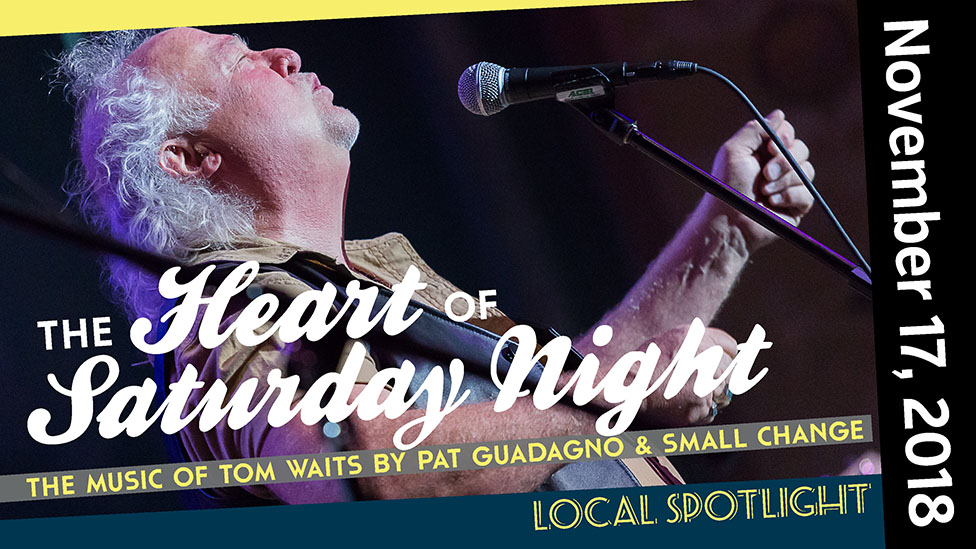 The Heart of Saturday Night: The Music of Tom Waits
Saturday, November 17, 2018
With Pat Guadagno and Small Change
Master song-stylist Pat Guadagno brings the head-scratching, mind-bending brilliance of Tom Waits to the Algonquin stage.
Performances
Saturday, November 17
8:00pm
Tickets
Event Information
Running time: Approximately 2 hours
Intermission: Yes

Synopsis
Pat Guadagno and his band Small Change, deliver the Blood and Whiskey stained music of one of the most deviant and provocative artists of our time, with passion and reverence. The Oscar-nominated, Grammy award-winning Tom Waits, once called 'A role model for the marginalized and misunderstood', recorded 27 groundbreaking albums during a career that spans 5 decades.
Follow Cigar Chewin' Charlie, Jimmy the Harp and The Pock Mark Kid through theatrical tales of bungled romance, late night diners and early morning cold fronts as The Music of Tom Waits cuts through the night like a Cleveland-bound Greyhound straight to The Heart of Saturday Night.
Credits
Presented by Algonquin Arts Theatre
Sponsors
Interested in sponsoring an event at Algonquin Arts Theatre? Call 732-528-4336 for information.