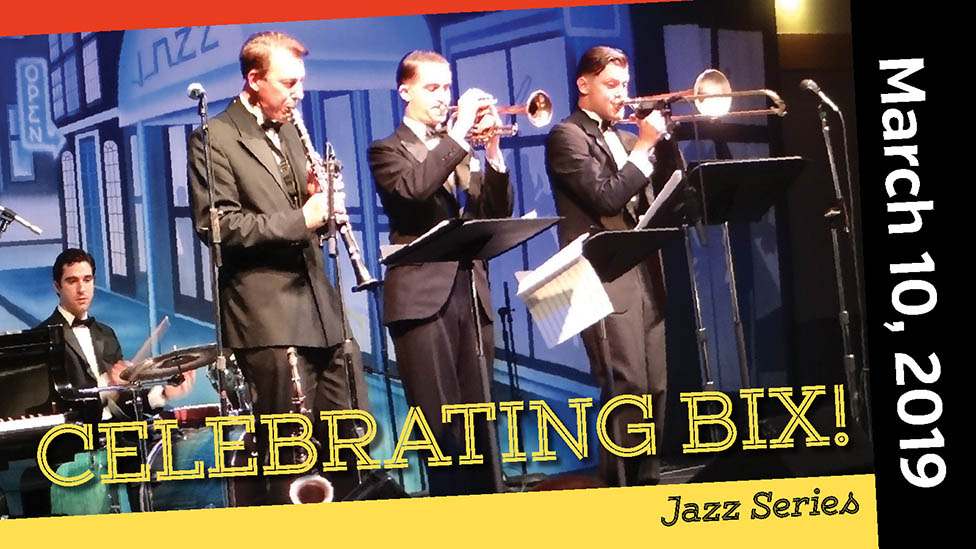 Celebrating Bix
Sunday, March 10, 2019
Dan Levinson and the gang salute legendary jazz icon Bix Beiderbecke.
Performances
Tickets
Subscriptions on sale now - only available by phone 732-528-9211 or in person.
Premium: $33 (Adult), $30 (Senior), $24 (Student)
Regular: $26 (Adult), $23 (Senior), $17 (Student)
Event Information
Running time: Approximately 2 hours
Intermission: Yes

Synopsis
On March 10, 1903 one of jazz's great cornetists was born in Davenport, Iowa. In 28 short years before his untimely death, his musical style has inspired virtually every jazz musician since. A contemporary Louis Armstrong, Bix Beiderbecke has achieved iconic status. Dan Levinson and his band celebrate his 116th birthday to wrap the 2018-19 Jazz Series at the Algonquin.!
Credits
Presented by Algonquin Arts Theatre
Sponsors
Concert sponsored by Sunnyside Manor
Jazz Series sponsored by Pamela & Raymond Brunt