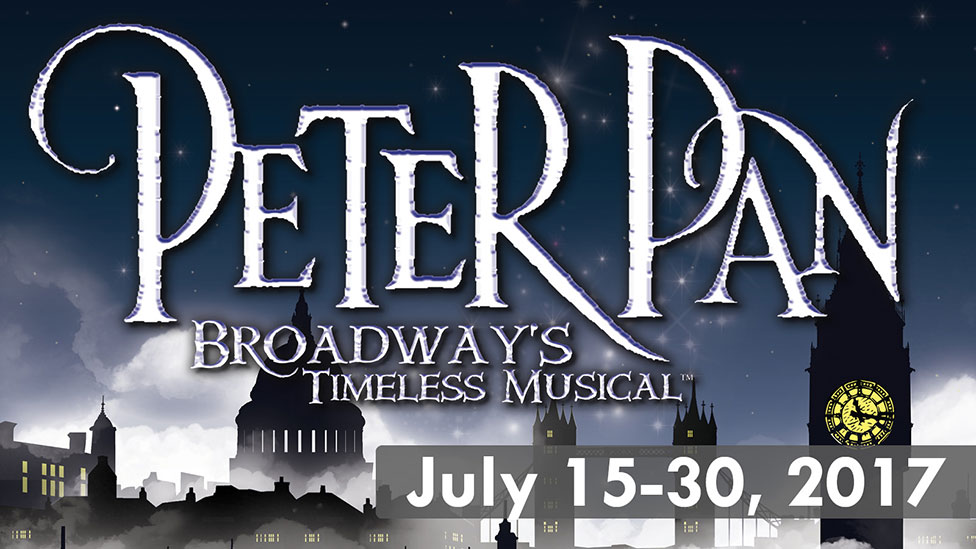 Peter Pan
July 15 - July 30, 2017
Broadway's timeless classic musical whisks you away to a place where dreams are born and no one ever grows up!
Performances
Tickets
Premium: $40 (Adults), $37 (Seniors), $31 (Students)
Regular: $32 (Adults), $29 (Seniors), $23 (Students)
Groups of 12 or more: $25 (Adults/Seniors), $20 (Students)
New: Please Note That Advertised Prices Include All Per Ticket Fees as of Summer 2017
ON SALE TIMELINE
Member Presale Begins November 15, 2016 at 12 noon - Become A Member
Two-Show Deal (with Fantasticks) On Sale December 6, 2016 at 12 noon
Individual Tickets on Sale Mid-Winter - Sign Up For Email Notification
Event Information
Runtime: Approximately 2 hours
Intermission: Yes
Kid Friendly: Recommended for ages 4 & up - Please note that children under age 4 will not be admitted.
Synopsis
Based on J.M. Barrie's classic tale and featuring an unforgettable score by Morris "Moose" Charlap and Jule Styne with lyrics by Carolyn Leigh and Betty Comden and Adolph Green, Peter Pan has been a beloved family-favorite since its Broadway debut in 1954.
Peter and his mischievous fairy sidekick, Tinkerbell, visit the nursery of the Darling children late one night and, with a sprinkle of pixie dust, begin a magical journey across the stars that none of them will ever forget. In the adventure of a lifetime, the travelers come face to face with a ticking crocodile, a fierce Indian tribe, a band of bungling pirates and, of course, the villainous Captain Hook.
Featuring the beloved songs, "I'm Flying," "I've Gotta Crow," "I Won't Grow Up" and "Never Never Land," and a rousing book full of magic, warmth and adventure, Peter Pan is the perfect show for the child in all of us... who dreamed of soaring high and never growing up.
Cast & Creative Team
CAST (Alphabetical)
RYAN ALGER - Indian
VERONICA BANAT - Indian
LIAM BARRY - Lost Boy
HENRY BERRY - Michael
LUCIE CHANTEPIE - Indian
FINNEGAN DOUGHERTY - Lost Boy
HUDSON EDER - Pirate
MATTHEW EVEGAN - Lost Boy
BRIDGET FARROW - Nana / Indian
TODD FERRY - Lost Boy
KAREN FICARRA - Mrs. Darling
JAMES FINNEGAN - Slightly
BRENDAN FLANAGAN - Cecco
SEAN GASSAWAY - Pirate
JOHN B. GECKLE JR. - Smee
ILANA KLEIN - Tiger Lily
KAT LE FEVRE - Peter Pan
JOSEPH STEPHAN LePORE - Tootles
JULIA LUPI - Wendy
BRIGID McCARTHY - Indian
PETER McGRADE - John
LULU NELSON - Indian
MICHAEL C. OLENDER - Jukes
MICHAEL PATIERNO - Captain Hook / Mr. Darling
LUKE PEARLBERG - Noodler
ANALISE PIEMONTE - Jane / Indian
ROBERT RASCZYK - Pirate
CADE SAITO - Lost Boy
JADA SANCHEZ - Liza / Crocodile
MEREDITH SHEFTEL - Indian
PAYTON SIANO - Lost Boy
NICOLE TAYLOR - Wendy, grown up / Indian
LYNNE TRUEX - Narrator RJ VANDENBROUCK - Lost Boy
JOSEPH WICKE - Lost Boy
JO WYMER - Tinkerbell (Puppeteer)
Credits
PETER PAN (1954 Broadway Version)
Lyrics by Carolyn Leigh
Music by Morris "Moose" Charlap
Additional Lyrics by Betty Comden & Adolph Green
Additional Music by Jule Styne
Based on the play by Sir J. M. Barrie
PETER PAN (1954 Broadway Version)
Is presented through special arrangement with Music Theatre International (MTI).
All authorized performance materials are also supplied by MTI. www.MTIShows.com
Sponsors