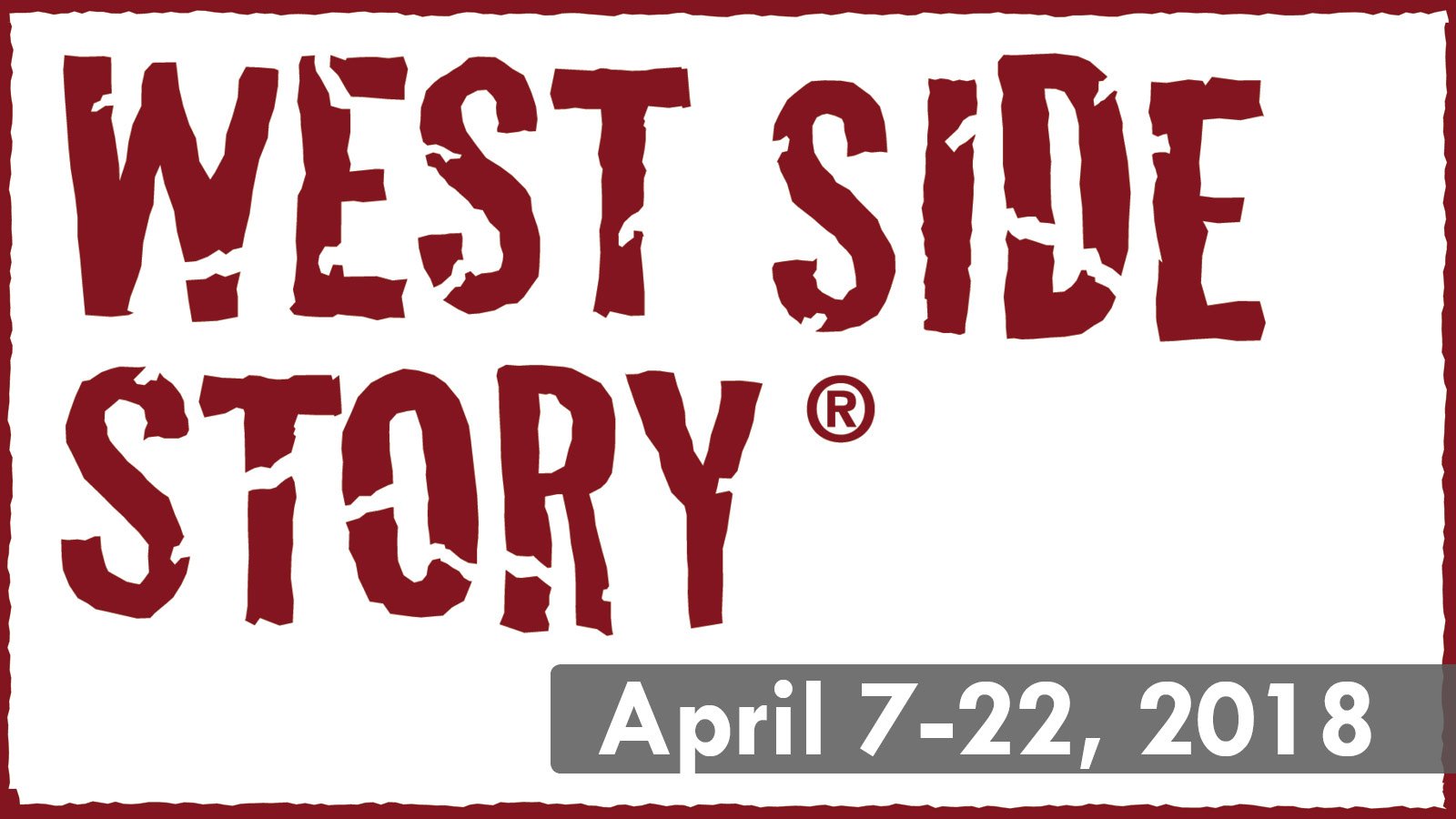 West Side Story
April 7 - April 22, 2018
Young lovers are caught between prejudice and warring street gangs in this seminal retelling of Romeo and Juliet.
Performances
Saturday, April 7
8:00pm - SOLD OUT
Sunday, April 8
3:00pm - SOLD OUT
Saturday, April 14
2:00pm - SOLD OUT
Saturday, April 14
8:00pm - SOLD OUT
Sunday, April 15
3:00pm - SOLD OUT
Saturday, April 21
2:00pm - SOLD OUT
Saturday, April 21
8:00pm - SOLD OUT
Sunday, April 22
3:00pm - SOLD OUT
Tickets
Premium: $40 (Adult), $37 (Senior), $31 (Student)
Regular: $32 (Adult), $29 (Senior), $23 (Student)

Group Rates Available: Learn More
New: Please Note That Advertised Prices Include All Per Ticket Fees
Event Information
Running time: Approximately 2 hours, 45 minutes
Intermission: Yes
Kid Friendly: Recommended for ages 9 & up - Please note that children under age 4 will not be admitted.
Synopsis
From the first notes to the final breath, West Side Story is one of the most memorable musicals and greatest love stories of all time. Arthur Laurents' book remains as powerful, poignant and timely as ever. The score by Leonard Bernstein and Stephen Sondheim is widely regarded as one of the best ever written. The world's greatest love story takes to the streets in this landmark Broadway musical that is one of the theatre's finest accomplishments, its songs a part of the nation's musical heritage.
Shakespeare's Romeo and Juliet is transported to modern-day New York City as two young, idealistic lovers find themselves caught between warring street gangs, the "American" Jets and the Puerto Rican Sharks. Their struggle to survive in a world of hate, violence and prejudice is one of the most innovative, heart-wrenching and relevant musical dramas of our time.
Cast & Creative Team
Tony: ROB RYAN
Maria: LIZZIE LEGREGIN
Anita: ALICIA ROSE DISHON
Bernardo: NICK D'AMBROSIA
Riff: EVAN KRUG
Action: RAY GUY
Chino: VINCENT ALEXANDER
Anybodys: ARIANA CENTAMORE
Doc: PAUL CALIENDO
Krupke: FRANK LEONHARDT
Lt. Schrank: BOB MAEHRLEIN
Gladhand: STEVE BARTLOW
Sharks:
JOSH BAILEY
DYLAN BROWN
ASHLEY BRUNO
TOMAS CARSON
JULIA COSALUZZO
KATIE DeCATALDO
VINNY ELGAZZAR
JONATHAN JAPIASSU
LINDSEY MONACO
LINDSAY MINARCHI
QUINCY SOUTHERLAND
GIANNA VERDE
Jets:
TAYLOR ALEXANDER
KAITLYN ANTHONY
CAIT CROWLEY
EMILY DAVIS
HUDSON EDER
JILLIAN MORAN
GLENN PARKER
ANALISE PIEMONTE
SPENCER TODD
DANIEL TROMANTANA
BEN WEISS
JOHN WISIENSKI
Director: IAN MOORE
Musical Director: MARK MEGILL
Choreographer: JESSICA O'BRIEN

Artists/roles subject to change.
Credits
WEST SIDE STORY
Based on a Conception of JEROME ROBBINS
Book by ARTHUR LAURENTS
Music by LEONARD BERNSTEIN
Lyrics by STEPHEN SONDHEIM
Entire Original Production Directed and Choreographed by JEROME ROBBINS
Originally Produced on Broadway by Robert E. Griffith and Harold S. Prince
By Arrangement with Roger L. Stevens
WEST SIDE STORY
Is presented through special arrangement with Music Theatre International (MTI).
All authorized performance materials are also supplied by MTI. www.MTIShows.com
An Algonquin Arts Theatre production.
Sponsors