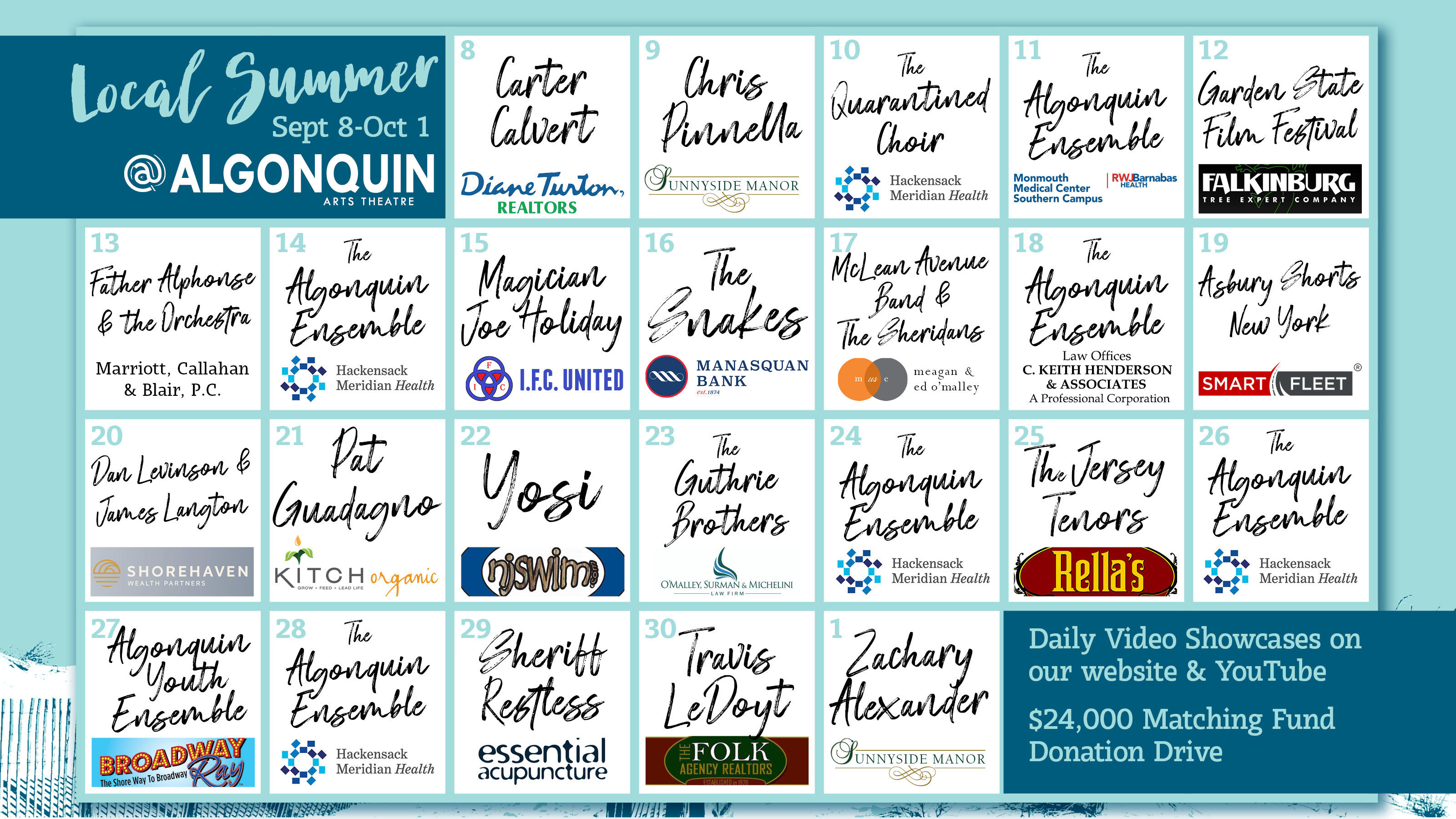 A 24-day marathon fundraiser
Local Summer Series
September 8 - October 1, 2020
24 days. 24 stories. 24 showcases.
Local Summer. The crowds are gone. The weather is nice. It's THE best time to live at the shore. To mark the occasion, Algonquin Arts Theatre launches our Local Summer Series. For 24 days, we'll deliver online showcases & stories that show why the performing arts mean so much, while raising the funds to help Algonquin weather this pandemic-induced intermission.
Event Information
24 days. 24 sponsors. 24 performing artists. 24 lives impacted by the Algonquin.
---
LOCAL SUMMER SCHEDULE
---
THE LOCAL SUMMER CLUB
Club membership includes a T-shirt and access to a reserved place for you and 1 guest to our Dockside Concert Series. (Must call to reserve a space 48 hours in advance). Local Summer Club Members also receive $100 membership benefits for 1 year until October 1, 2021. Entire amount of Club Membership will be counted toward the Matching Fund Drive.
---
LOCAL SUMMER 50-50 CASH RAFFLE
Head into Fall with more cash in your pocket! We'll hold a 50-50 cash raffle drawing on October 1, 2020. Tickets are 1 for $20, 3 for $50 and 10 for $150. The last winner of our 50-50 took home more than $4,900 in June!
---
LOCAL SUMMER T-SHIRT SALES
Local Summer T-Shirts are available for pre-order now!
---
$24,000 MATCHING FUNDS DRIVE
This event includes a fundraising appeal with a match of up to $24,000 in contributions. Individuals can donate any amount. No donation is too small. No donation is too big. Thank you to Janice Blanton and ShoreHaven Wealth Partners for teaming up to pledge $24,000 to this match!
---
Cast & Creative Team
24 Stories
As part of our Local Summer Series, we will feature the stories of 24 individuals or families that have had their life improved through experiences at the Algonquin as a patron, student, performer, volunteer or staff member.
Stories will be posted to Facebook each day of Local Summer, and also be included in the Local Summer Daily video that will premier at 7:45 pm ET on YouTube.
Sponsors
Broadway Ray
Diane Turton, Realtors
Ed & Meagan O'Malley
Essential Acupuncture
Falkinburg's Tree Expert Company
I.F.C. United
Hackensack Meridian Health
Henderson & Handerson, P.C.
Kitch Organic
Manasquan Bank
Marriott, Callahan & Blair, P.C.
Meagan & Ed O'Malley
Monmouth Medical Center Southern Campus
NJSwim
O'Malley, Surman & Michelini
Rella's Italian Tavern
ShoreHaven Wealth Partners
SmartFleet USA
Sunnyside Manor
The Folk Agency Realtors, Inc.
Media Partner
Star News Group