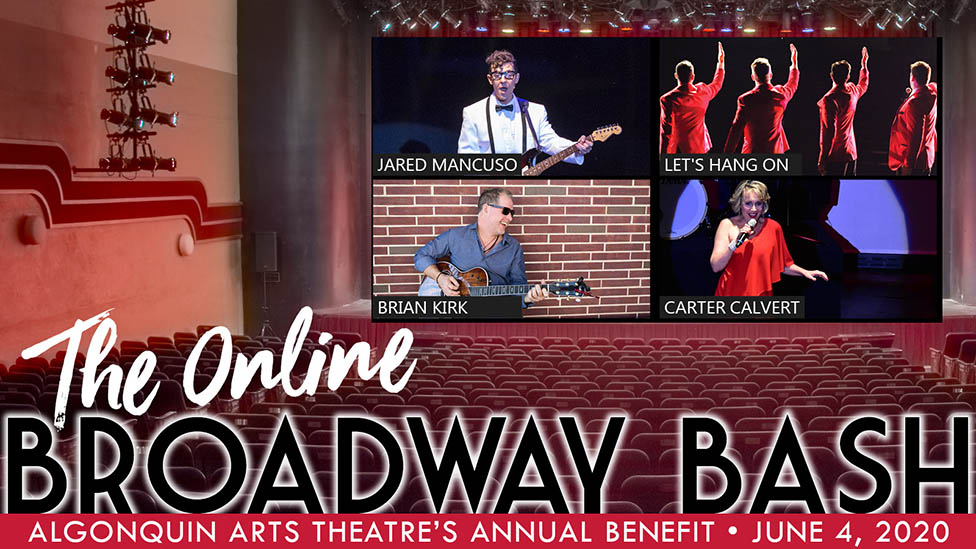 The Online Broadway Bash
Thursday, June 4, 2020
Our annual fundraiser goes online - but we're going to deliver more than we've ever delivered before! In addition to more featured performers, this event features the option to have food and drink delivered for you to prepare & enjoy before and during the show!
Performances
Thursday, June 4
8:00pm - Details Below
Tickets
Available Ticket Levels
SHOW ONLY - Suggested Donation: $25
Pre-registration suggested so we can communicate with you around the event. We'll email shortly before the event begins with links to help you find the live show.
Please note before placing your order:
Deadline for VIP & Bash ticket orders is Thursday, May 28
Delivery available to Monmouth & Ocean Counties only.
Please disregard references to traditional tickets during online purchase (choose seats, Collect my tickets at the box office, etc.).
Check your delivery address in MY ACCOUNT or when you call to make sure our records are current!
Be sure to select the correct ticket quantity so that we can deliver the correct portion.
Questions? Call us at 732-528-9211 between 11 am and 4 pm on weekdays
Food Deliver Ticket Levels
We have very limited VIP & Bash tickets available by calling 732-528-9211 for more information. This will sell out soon - don't delay!
VIP - $125 Per Person
Includes: Four-course meal prepped by Merri-Makers, bottle of wine & sparkling wine for toast.
On the afternoon of June 4, we'll deliver* a package with everything you need for a VIP experience. All ingredients will be completely portioned and prepped & you will need to heat (when needed), assemble and plate as directed in video instructions from the Chef. View detailed menu.
BASH - $65 Per Person
Includes: A meat & cheese plate from Joe Leone's, a bottle of wine, sparking wine for toast. Delivered* to your door on June 4 by our committee with contactless delivery!
50-50 RAFFLE - 1 for $20, 3 for $50, 10 for $150
Purchase online when you buy your tickets and we'll deliver the stubs to you by mail! Be sure you're watching after the final performance of the night as we pull the winning ticket!
VIP Menu by Merri-Makers
Finest quality ingredients will be delivered portioned & pre-packaged. The chefs from Merri-Makers will provide video instructions for heating (when needed), assembling and plating each course.
FIRST COURSE
Hors d'oeuvres including:
Beef Barbacoa Taquito,
Traditional South American beef in flavor and spice
Coney Island Frank Blanket,
Stuffed with sauerkraut and deli mustard
Goat Cheese and Cherry Blossom,
Whipped savory cheese with a sweet finish
Forest Mushroom Tart,
Exotic and domestic mushrooms finished with sherry wine
SECOND COURSE
Insalada Burrata
Presented over young arugula with focaccia crostini.
Topped with heirloom tomato salad aged balsamic reduction & house pesto oil.
MAIN COURSE
Chicken Fresco
A pan roasted breast of chicken topped with a julienne of sun-dried tomatoes and quartered artichoke heart saute finished with California sauterne and freshly cracked pepper.
Accompanied by roasted local asparagus spears & Boursin cheese potato croquette
DESSERT
Chocolate Chip Banana Bread Pudding
with salted caramel sauce
DRINK
Bottle of Wine (1 per ticket purchased), Sparkling Wine for Toast. Note: Households with 2 or more tickets will receive 1 bottle of red & 1 bottle of white wine.
NOTE: Please call 732-528-9211 with special requests or dietary concerns. We will make our best effort to accommodate. Menu is subject to change.
Event Information
The show must go on ... online!
Since you can't come to us, the Broadway Bash will come to you! The program will be broadcast via social media onto your TV, laptop, tablet or smart phone.
And, in a unique twist, we'll be bringing food and drink to the doorstep of our VIP & Bash ticket holders.
This year Algonquin Arts Theatre recognizes the Leadership & Legacy Award recipients John & Gail Winterstella and Ray & Pamela Brunt. Stay tuned for our live 50-50 raffle drawing at the end of the show!
The entertainment includes a number of performances as part of 75-minute presentation that's going to zoom right by. Scheduled to Appear:
Jared Mancuso (who played Buddy in our production of The Buddy Holly Story) performing as Buddy Holly
Brian Kirk (of Brian Kirk & The Jirks) covering Bruce Springsteen
Carter Calvert (Broadway actress & headliner of our 2019 Broadway Bash)
Let's Hang On (Jersey Boys-style tribute)
Plus - we will be showcasing our amazing Broadway Series casts in some big production numbers.
Estimated Running Time: 75 minutes
Delivery Only available to Monmouth & Ocean County, NJ.
Please note: Performers, schedule and menu subject to change. Performances may be recorded live prior to the event.
Sponsors
PNC Wealth Management
Broadway Ray Soehngen
Carluccio, Leone, Dimon, Doyle & Sacks LLC
Peter A. Flihan & Linda P. Hejduk
Mona & John Kirk
OceanFirst Foundation
New Jersey Natural Gas
The George & Ruth Harms Foundation
Merri-Makers