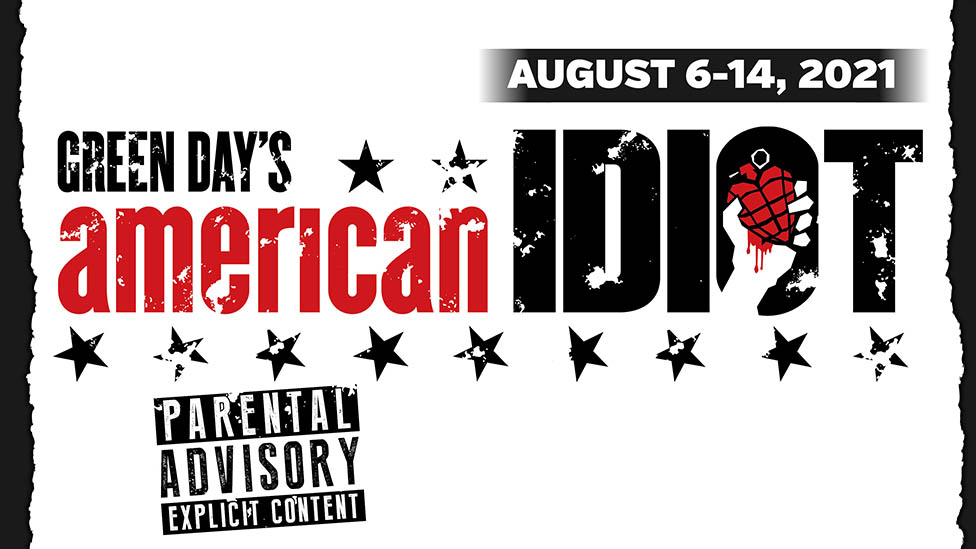 TENTATIVE DATES
American Idiot
August 6 - August 14, 2021
This production is currently off sale. Ticket sales will resume if and when we determine that it will be safe to commence production and our capacity limits have been lifted.
Performances
Friday, August 6
8:00pm - Was 8/7/2020
Saturday, August 7
8:00pm - Was 8/8/2020
Sunday, August 8
3:00pm - Was 8/9/2020
Thursday, August 12
8:00pm - Was 8/13/2020
Friday, August 13
8:00pm - Was 8/14/2020
Saturday, August 14
8:00pm - Was 8/15/2020
Tickets
Tickets are not on sale for this event. Please join our mailing list to be notified when tickets go back on sale.
Pricing
Premium: $41 (Adult), $38 (Senior), $32 (Student 4 & up)
Regular: $33 (Adult), $30 (Senior), $24 (Student 4 & up)
Offers
Event Information
Running time: 1 hour, 35 minutes
Intermission: No
Content Advisory: This production includes strong language and mature themes. Recommended for ages 16 and up.
Synopsis
Green Day's powerhouse album is brought to life in this electric-rock musical of youthful disillusion. Content Advisory.
The two-time Tony Award-winning hit musical Green Day's American Idiot, based on the Grammy Award-winning multi-platinum album, boldly takes the American musical where it's never gone before. This high-octane show includes every song from Green Day's album, American Idiot, as well as several songs from its follow-up release, 21st Century Breakdown.
Johnny, Tunny and Will struggle to find meaning in a post-9/11 world. When the three disgruntled men flee the constraints of their hometown for the thrills of city life, their paths are quickly estranged when Tunny enters the armed forces, Will is called back home to attend to familial responsibilities, and Johnny's attention becomes divided by a seductive love interest and a hazardous new friendship. An energy-fueled rock opera, American Idiot, features little dialogue and instead relies on the lyrics from Green Day's groundbreaking album to execute the story line.
Cast & Creative Team
This show has not yet held auditions. Visit our
audition page
for more information.
Credits
An Algonquin Arts Theatre production
Green Day's American Idiot
Book and Lyrics by Billie Joe Armstrong
Book by Michael Mayer
Music and Lyrics by Green Day
Green Day's American Idiot is presented through special arrangement with Music Theatre International (MTI). All authorized performance materials are also supplied by MTI. www.mtishows.com
Original Broadway Production Produced by Tom Hulce & Ira Pittelman
Ruth and Stephen Hendel | Vivek Tiwary and Gary Kaplan | Aged In Wood and Burnt Umber
Scott M. Delman | Latitude Link | HOP Theatricals and Jeffrey Finn | Larry Welk
Bensinger Filerman and Moellenberg Taylor | Allan S. Gordon/Élan V. McAllister
Berkeley Repertory Theatre
in association with Awaken Entertainment and John Pinckard and John Domo
and
Was originally produced by Berkeley Repertory Theatre, Berkeley, CA
Tony Taccone, Artistic Director / Susan Medak, Managing Director
Musical Arrangements and Orchestrations Tom Kitt
Sponsors
Interested in sponsoring a show at Algonquin Arts Theatre? Call 732-528-9211 for information.