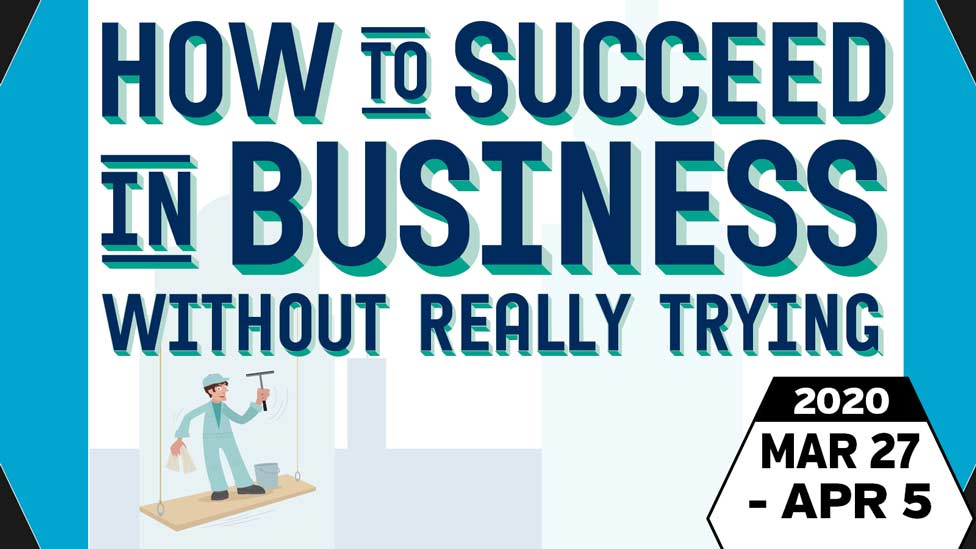 How to Succeed in Business Without Really Trying
March 27 - April 5, 2020
Big business means big laughs in this delightfully clever lampoon of life on the corporate ladder.
Performances
Tickets
Pricing
Premium: $40 (Adult), $37 (Senior), $31 (Student 4 & up)
Regular: $32 (Adult), $29 (Senior), $23 (Student 4 & up)
Event Information
Running time: Approximately 2 hours, including intermission.
Intermission: Yes
Kid Friendly: Recommended for ages 13 & up - Please note that children under age 4 will not be admitted.

Synopsis
Based on Shepherd Mead's book of the same name, How to Succeed in Business Without Really Trying follows the young, ambitious J. Pierrepont Finch, as he searches for a job at the World Wide Wicket Company. The story focuses on Finch's struggle to enter the business world, following the advice of a book he reads while working.
How to Succeed in Business Without Really Trying was originally adapted into a dramatic interpretation in 1955, but first saw the stage in 1961. Renowned choreographer Bob Fosse worked on the original Broadway production, but allowed an obscure dance director named Hugh Lambert to take the credit.
Cast & Creative Team
J. Pierpont Finch: CAMERON SCHLUSSLER
Rosemary: SHANNEN DOYLE
J.B.Biggley: JAN TOPOLESKI
Mr Gatch: DAVID FINE
Mr. Bratt: DAVID FRETZ
Smitty: LEAH KRUPNICK
Hedy LaRue: LAURIE TOOLE
Bud Frump: MICHAEL MORCH
Twimble/Womper: BRENDAN FLANAGAN
Miss Jones: CINDY CHAIT
Matthews/Ovington: JOHN B GEKLE
Johnson/Ensemble: SEAN CALLAHAN
Jenkins/Ensemble: JOHN WISIENSKI
Miss Krumholz/Ensemble: MIKAYLA NELSON
Tackberry/Ensemble: THOMAS KREY
Peterson/Ensemble: JOSEPH BRYANT
Ensemble: DANNY COLON
Ensemble: KATIE DeCATALDO
Ensemble: FRANK EGAN
Ensemble: THOMAS FAULKNER
Ensemble: MADDY FERNANDEZ
Ensemble: GRACE GUIPPONE
Ensemble: KAITLYN HULME
Ensemble: MARTINE JACOBS
Ensemble: JOSEPH MARTINEZ
Ensemble: KARI MULLER
Ensemble: LORENZO NAIMOLI
Ensemble: ANTHONY SCARPONE
Ensemble: DYLAN SCIFO
Director: GINA LUPI
Musical Director: MARK MEGILL
Choreographer: KATHLEEN PEARLBERG
Credits
HOW TO SUCCEED IN BUSINESS WITHOUT REALLY TRYING
Book by Abe Burrow, Jack Weinstock and Willie Gilbert
Music and Lyrics by Frank Loesser
Based upon the book by Shepherd Mead
Originally presented by Cy Feuer and Ernest H. Martin in Association with Frank Productions
HOW TO SUCCEED IN BUSINESS… TRYING is presented through special arrangement with Music Theatre International (MTI). All authorized performance materials are also supplied by MTI. www.MTIShows.com
Sponsors
C. Keith Henderson & Associates