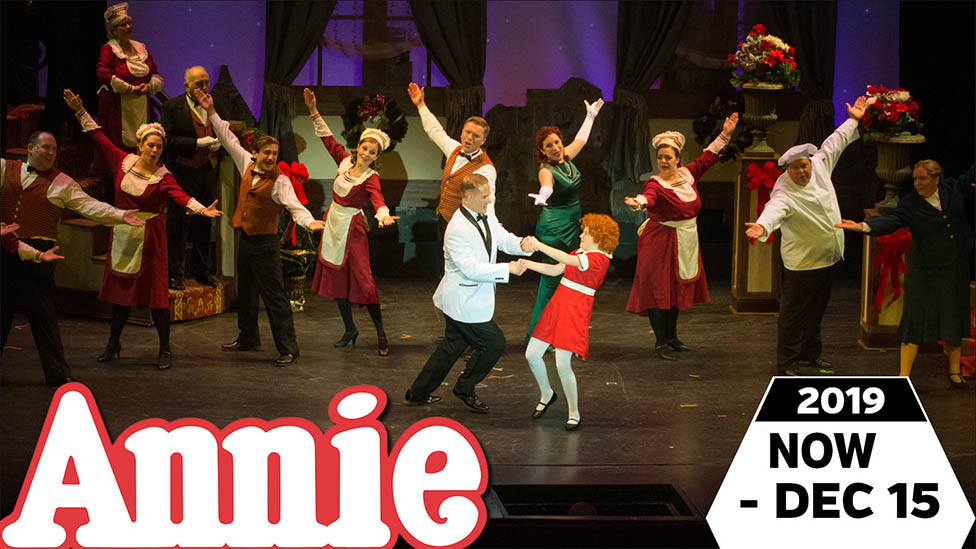 Annie
November 30 - December 15, 2019
Leapin' Lizards! The irrepressible comic strip heroine takes center stage in one of the world's best-loved musicals.
Performances
Saturday, November 30
7:30pm
Sunday, December 1
3:00pm
Saturday, December 7
2:00pm
Saturday, December 7
7:30pm
Sunday, December 8
3:00pm
Friday, December 13
7:30pm - Best Availability
Saturday, December 14
2:00pm - Very Limited
Saturday, December 14
7:30pm
Sunday, December 15
3:00pm - Very Limited
Tickets
Subscriptions available: Learn More.
Pricing
Premium: $40 (Adult), $37 (Senior), $31 (Student 4 & up)
Regular: $32 (Adult), $29 (Senior), $23 (Student 4 & up)
Event Information
Running time: Approximately 2 hours, 40 minutes including intermission.
Intermission: Yes
Kid Friendly: Recommended for ages 6 & up - Please note that children under age 4 will not be admitted.

Synopsis
A Broadway classic, Annie follows an optimistic young orphan living in New York City on her quest to find her parents, who abandoned her on the doorstep of an orphanage run by the cruel Miss Hannigan. Annie escapes to New York City to find a world of adventure and finds a new home with billionaire Oliver Warbucks, his secretary and his lovable dog, Sandy.
The heart-warming production first opened on Broadway in 1977 and ran for almost six years, winning seven Tony Awards, including Best Musical. Today, Annie stands as a classic tale of the search for adventure, identity and family.
With a famous original score including "Tomorrow" and "Itís the Hard Knock Life," Annie is sure to captivate the hearts of audiences everywhere.
Cast & Creative Team
Annie: KENDALL THORNER
Molly: ELIANA GAMBLE
Kate: TESSA PORTER
Tessie: LUCIANA MITCHELL
Pepper: JORDYN GIGERIAN
July: ZOE KENNEY
Duffy: SIENNA VALENTINO
Miss Hannigan: LAUREN J. COOKE
Grace Farrell: LAURIE TOOLE
Drake: DAVID HARRIS
Oliver Warbucks: DAVID FUSCO
Star-to-Be: LINDSEY MONACO
Rooster Hannigan: FRANK FALISI
Lily St. Regis: ARIANA CENTAMORE
President Franklin D. Roosevelt: DAVID BEIL
Louis Howe: JOHN ALBRECHT
Cecille/Boylan Sister: JULIE LUPI
Assistant Dogcatcher/Jimmy Johnson/Marine Guard: SEAN DICKINSON
Dogcatcher/Fred McCracken: STEPHEN DOUCETTE
Perkins: MEGAN ROSE DUANE
Bundles/Hull: BRENDAN FLANAGAN
Boylan Sister: KAILTYN HULME
Warbucks Staff: EDWARD ITTE
Mrs. Pugh: LISA JONES
Eddie/Sound Effects Man: SHAUN KATZ
Sophie: PAM PERTGEN
Appleseller/Ickes: MARK REGAN
Lt. Ward/Bert Healy/Morganthau: STEPHEN RUBINO
Anette/Boylan Sister: CASSIDY TERRACCIANO
Mrs. Greer: MARY JO TORT BERGERON
Sandy: ARROW THE AIREDALE TERRIER
Director: ANTHONY GRECO
Musical Director: NICHOLAS KAMINSKI
Choreographer: JESSICA O'BRIEN
Producer: JULIE NAGY
Stage Manager: GINA LUPI
Credits
ANNIE
Book by Thomas Meehan
Music by Charles Strouse
Lyrics by Martin Charnin
Original Broadway Production Directed by Martin Charnin
Based on "Little Orphan Annie" By Permission of Tribune Content Agency, LLC
ANNIE is presented through special arrangement with Music Theatre International (MTI).
All authorized performance materials are also supplied by MTI. www.MTIShows.com
Sponsors